What Hillary Clinton Didn't Say in Her Economic Policy Speech
For all the focus on her populist rhetoric, the Democratic front-runner is still charting a centrist course.
For all of the economic issues that Hillary Clinton ran through during her politics-heavy economic policy speech—from raising the minimum wage to overhauling the capital gains tax—it's just as instructive to look at what she left out.
Following the Democratic front-runner's first major economic policy speech of the campaign, Republicans were quick to accuse Clinton of pandering to the liberal wing of her party. "I thought Secretary Clinton did a decent job of delivering Senator Warren's speech," said Tony Fratto, a member of former President George W. Bush's administration who now advises banks and hedge funds at Hamilton Place Strategies, referring to Senator Elizabeth Warren of Massachusetts, a favorite of the Democratic Party liberals. Yet Clinton's talk left some Wall Street critics wanting more. "Voters deserve a specific, detailed and comprehensive plan for Wall Street reform that they can hold her accountable for," said Dennis Kelleher, head of financial-reform advocacy group Better Markets Inc.
Delivered at the progressive New School in Greenwich Village—with an audience that included faculty, students and a small group of Clinton supporters with financial sector ties, including Tom Nides of Morgan Stanley—the speech offered ample rhetorical flourishes designed to appeal to the Democratic Party's base, but, in terms of substance, still put Clinton on a middle path between rivals on her right and her left.
No mention of Glass-Steagall
The heckler who interrupted Clinton toward the end of her speech shouting "Senator Clinton, will you restore Glass-Steagall?" is going to be disappointed. So too is the woman standing on the muggy Manhattan sidewalk holding a sign that read "Wall Street is Bankrupt. Pass Glass-Steagall." Clinton offered no suggestions Monday that she would support rebuilding the wall between commercial and investment banking that her husband eliminated while in the White House.
Clinton will push for banking reform, but "not for reinstating the 1935 ban on having investment banking and commercial banking in the same firm," said Clinton campaign adviser Alan Blinder, a Princeton University economics professor and former Federal Reserve vice chairman who also served in President Bill Clinton's administration. A reinstatement of a new version of the Glass-Steagall Act has been advocated by Senator Elizabeth Warren. "It's about time we got past the canard that Glass-Steagall repeal was a major cause of the financial crisis,'' Blinder said. The old law wouldn't have stopped anything, because "almost all the bad practices, and there were many, came from what you might call 'pure banks' and 'pure investment banks,''' Blinder added.
Indeed, Clinton's focus was largely on hedge funds, which traditional banks may consider good news. In fact, she cited "community banks" as institutions where she'd be willing to consider regulatory rollbacks "to encourage responsible loans to local people and businesses they know and trust."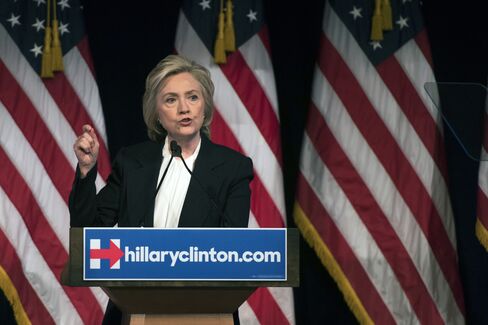 No attacks on Bernie
While Clinton took direct swings at Jeb Bush, Marco Rubio and Scott Walker, her jabs against the other candidates for the Democratic presidential nomination were indirect and involved no names.
Clinton stressed that the ideas she outlined Monday amount to "clear-eyed capitalism" and not "charity," which effectively distinguished her from Sanders, a self-identified socialist. And while her vow to "get back to making decisions that rely on evidence more than ideology" may have been directed at acolytes of trickle-down economics, it also applies to Sanders, who is doctrinaire in his anti-corporate positions. Sanders said in a statement that he welcomes her discussion of income inequality and looks forward to "an issue-oriented debate as to which set of policies will best represent the working families of our country."
Sanders filed a Senate bill earlier this year to break up the big banks, something seen even by many Democrats as highly unlikely to gain traction, let alone become law, yet the idea is still popular on the left. Clinton skirted the issue entirely, getting closest when she said that "too big to fail" remains a problem.
That frustrated at least one supporter with Wall Street ties.
"Calling for more regulation beyond Dodd-Frank is a euphemism for, 'Do we break up the big banks or not?' and if you are in favor of breaking up the big banks I think you should come out and say it, and there's a case to be made,'' said James Torrey, a finance veteran who's donated to Clinton's past campaigns and founded the Torrey Funds, which invested in other hedge funds. "I'd like to see Hillary step out of some carefully crafted position by handlers.''
No new plans for attacking Wall Street
Indeed, Clinton's language on the financial industry was carefully calibrated as she positioned herself as tough on Wall Street but not a slash-and-burn critic.
Clinton asserted that, as president, she would defend Dodd-Frank and add new regulations aimed at overseeing activities she described as "too complex and too risky." She also said she would choose and empower regulators "who understand that too big to fail is still too big a problem." That had Adam Green of the Progressive Change Campaign Committee, which has not always been supportive of Clinton, cheering. "There were notable overtures to the Elizabeth Warren wing of American politics, and nothing major for the dwindling DLC corporate crowd," he said, referring to the Democratic Leadership Council, a pro-business group that Clinton's husband, former President Bill Clinton once headed.
And some Wall Streeters had the opposite response. "First response: 'Ugh,''' said Erika Karp, the CEO of New York-based investment banking firm Cornerstone Capital Group, who has donated to Hillary Clinton's previous campaigns. "More regulation is very, very different from better regulation or from pragmatic regulation."
But others divined more nuance in the presentation. When Clinton also called for new rules guiding the "shadow banking system," including hedge funds, high-frequency traders and nonbank finance companies which, she said, "receive little oversight at all, " some saw a political move by a senator who once represented Wall Street designed to cater to the Democratic Party's populist constituency. "We see this as a calculated effort to further distance Clinton from her hedge fund donor base," said Jaret Seiberg, a Guggenheim Securities LLC analyst, in a note to clients on Monday.
Another expert observed that Clinton appeared to be fighting a war that already has been won. "It's not 2006. Perhaps she needs a younger speechwriter or at least one who knows how to call the regulators," said Brad Hintz, an adjunct professor at New York University and former bank analyst at Stanford C. Bernstein & Co. "Wall Street has reduced inventories and is no longer trading 'for the house.' Prop trading has been banished. Volcker has been accepted. The U.S. banks have largely met their Basel III capital targets." He continued: "In the process of making these changes, Wall Street's Masters of the Universe traders have become peaceful sheep, running trading desks which are unable to beat their cost of capital. Clients worry about illiquidity caused by the banks absence from the markets not counterparty risk."
Greycroft LLC founder Alan Patricof, a longtime Clinton donor who has already hosted a fundraiser this cycle, said he is confident that Clinton would act in nothing "less than a thoughtful manner" if she were to be elected. "She is merely recognizing that Dodd-Frank, while it has played a constructive role in putting some restrictions on behavior, could still be tweaked to be improved."
No critique of Obama
President Barack Obama focused during his first term on rebuilding the financial system and was not as aggressive as some on the left would have liked in going after the individuals and institutions that helped precipitate the 2008 market meltdown. The Justice Department has fined banks but hasn't overseen a lengthy list of prosecutions. That angers Warren and, based on Monday's speech, Clinton, too.
"While institutions have paid large fines and in some cases admitted guilt, too often it has seemed that the human beings responsible get off with limited consequences—or none at all, even when they've already pocketed the gains," she said. "This is wrong and, on my watch, it will change."
Green, of the PCCC, said that Clinton "made news by calling out the criminal behavior of Wall Street banks for the first time and acknowledging that corporate criminals often escape accountability while pocketing ill-gotten gains" but the goal of making irresponsible financial players has proven tough to live up to in the real world of courtroom standards of proof.
And Clinton was generally supportive of Obama's positions, pitching many of the same ideas he has attempted to push through Congress, and praising his leadership in digging the economy out of a recession. "President Obama and the American people's hard work pulled us back from the brink of depression. President Obama saved the auto industry, imposed new rules on Wall Street and provided health care to 16 million Americans," she said.
No assault on Uber
Before the speech, Politico reported that Clinton would go after the on-demand ride business, Airbnb and the broader "sharing economy." Other news outlets and some staffers for Republican presidential candidates had seized on that claim to attack Clinton and suggest that she is stuck in the past. But, as her campaign hastened to make clear, Clinton wasn't trying to invite the wrath of David Plouffe and scores of other Obamans now working for "sharing economy" companies. Rather, she said that while the industry has innovated and shown great promise, "it's also raising hard questions about workplace protections and what a good job will look like in the future."
—Max Abelson and Jennifer Surane contributed to this report.
Before it's here, it's on the Bloomberg Terminal.
LEARN MORE