NYT Defends Exclusion of Ted Cruz's Book: 'We Are Confident'
But the newspaper does not offer further details on how it made the decision.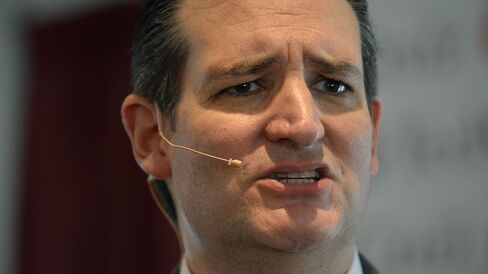 The New York Times on Monday defended its decision to exclude Republican presidential candidate Ted Cruz's book from its bestseller list after discovering "strategic bulk purchases," though it did not offer any further details behind the decision.
"The Times's best-seller lists are based on a detailed analysis each week of book sales from a wide range of retailers who provide us with specific and confidential context for their sales," said newspaper spokeswoman Eileen Murphy in an e-mailed statement. "We are confident in our conclusion about the sales patterns for the Cruz book for the week in question."
The newspaper's response comes after Politico reported that online retailer Amazon and the book's publisher, HarperCollins, questioned the Times' decision.
"Our system is designed to detect anomalies and patterns that are typical of attempts to manipulate the rankings," Murphy said. "We've been doing this for a long time and we apply our standards consistently, across the board."
Cruz, a Texas senator whose campaign has called the newspaper's rationale a "falsehood," has made political hay of the feud. "Demand the Times release the 'evidence' or apologize!" says a page on his website that invites supporters to give him their e-mail addresses, make a financial donation, or like him on Facebook. In a tweet, he took a red pen to the print edition of the Times.
https://twitter.com/tedcruz/status/620303890697728001
While the Times stressed that conservative authors regularly rank on its lists, the company did not reveal the inner workings of the decision to exclude Cruz's book, which could prove to be a mistake, according to Ken Doctor, a media analyst who writes about the news industry at Newsonomics.
"If they could be a little more transparent about it or they could cite a new kind of practice that they're finding that helps them, I think they ought to do it because it just reinforces their position as a fair broker," he said.
"It doesn't open up its kimono much about what it actually does," he said.
He added: "The almost humorous thing about is that by the Times excepting the book from its bestseller list, Ted Cruz doesn't get the benefit of the bestseller list but ends of getting this huge wave of publicity which is only going to help build his platform, which is what it's all about."
Gerrit De Vynck contributed to this report.
Before it's here, it's on the Bloomberg Terminal.
LEARN MORE