Martin O'Malley Had a Footnote Mishap—But Don't Overlook the Policy
The presidential candidate may have been duped by a fake website, but his policy ideas are very real.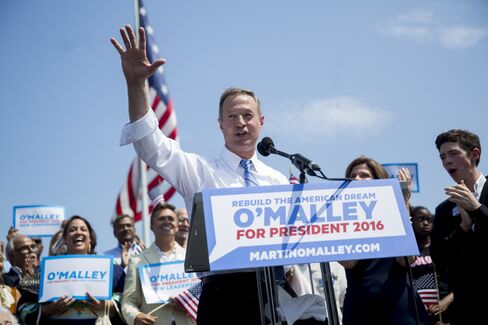 This much is clear from the early weeks of Martin O'Malley's presidential campaign: he is positioning himself as the bane of Wall Street's existence. He attacked Goldman Sachs Chief Executive Officer Lloyd Blankfein during his campaign announcement speech. He's repeatedly used his stump speeches to call for more restrictive Wall Street regulation and more concrete consequences for executives at the helm of the largest banks during the 2008 financial crisis.
"If you—and your megabanks—which we, the American taxpayer, saved want to begin to restore the confidence in your leadership, you need to start by saying two things: "we're sorry" and "thank you," O'Malley, the former Maryland governor, wrote in an open letter to Wall Street released Thursday by his campaign.
Along with it, he backed the talk up with policy proposals in the form of a detailed 10-page white paper. It places him firmly in the camp of progressive activists and advocates who have attacked President Barack Obama's team for being too lax on Wall Street.
But first a slight problem. O'Malley's team meticulously footnoted the information contained in the 10-page document. In all, there were 37 footnotes. The very first, tied to the revolving door between government and the financial services industry, cites a story about former Attorney General Eric Holder taking a $77 million job with JPMorgan. Well, that didn't happen. And the story itself came from the satirical news site The Daily Currant.
https://twitter.com/Phil_Mattingly/status/619132669973151745
Lis Smith, O'Malley's spokeswoman, took it in stride (and made a good point—they are far from the first campaign to deploy an errant footnote and certainly won't be the last.)
https://twitter.com/Lis_Smith/status/619137680866152449
The footnote was replaced with a link to a real story (about Holder's return to his white-shoe law firm, Covington and Burling), underscoring the irony that given the current state of the government-to-industry revolving door, it's not like there was a shortage of examples to choose from.
The paper itself is worth digging into, however, both on policy grounds and for the politics. As Democrats look for an opening to attack front-runner Hillary Clinton, a "get tough" stance on Wall Street has become a must-have for Democratic candidates in the race. Clinton herself has taken a sharp tone, particularly when it comes to hedge funds, yet early state polling does show concern among Democratic voters about her willingness to take on the largest banks. Vermont Senator Bernie Sanders has surged in recent weeks. There has been some thought that part of that surge has been due to Sanders' ability to attract some potential voters who had been holding out for a run by Senator Elizabeth Warren, the Massachusetts Democrat who has been Wall Street's Public Enemy No. 1 since before she was even elected.
Sanders does his part to appeal to those in the party who find the largest banks and their practices objectionable. He's regularly proposed legislation to break up the largest banks. He's proposed a financial transaction tax. He's made clear a Sanders administration would place a target on the back of the largest Wall Street firms. In June Bloomberg Politics polls in Iowa and New Hampshire, Sanders held 18 and seven point advantages when compared to Clinton on the question of who would "take on Wall Street and financial elites." The poll question did not ask about views on O'Malley. Even as he's run out a series of policy proposals, he has seen his poll numbers stick steadily in the 1 to 2 percent range.
What makes O'Malley's white paper interesting is not just the clear appeal he's making to the so-called "Warren wing," but his willingness to take a deep dive into financial arcana to do so. Breaking up the banks is a great topline call to the base, but talking about the Justice Department's positions on deferred prosecution agreements or cracking down on how the Securities and Exchange Commission votes on waivers for financial institutions that have run into legal trouble? What about requiring the general counsel of the Federal Reserve to be a presidential appointee? Not so much. But these are absolute siren calls to the types of progressive policy wonks for whom Warren has held such appeal. For groups like Americans for Financial Reform, or Better Markets or the series of high profile, and very knowledgeable, individuals who write regularly on these topics from the left, these are the types of proposals they have been pushing, with little to no traction inside the Obama administration, for years.
https://twitter.com/ddayen/status/619142123175022592
https://twitter.com/ddayen/status/619142364850851840
These individuals and groups are motivated by policy—these policies specifically—and bring along with them equally motivated followings. With the exception of one commissioner at the Securities and Exchange Commission and a few senators on Capitol Hill, their voices often are ignored. O'Malley, on the other hand, is embracing them in full. And his willingess to get wonky could have a payoff: When spoken about in broad terms, those policies, which are centered on the perception of unfairness and politically connected corporate giants being let off the hook, can also sound pretty good out on the campaign trail.
None of this means O'Malley's numbers will suddenly to start to move in a meaningful way, but he has set a new standard on the policy front when it comes to Wall Street regulation and financial services policy in general. How that seeps into the overall debate in the Democratic primary—and the vocal advocates who he brings along with him on that ride--will be worth paying attention to in the months ahead.
Before it's here, it's on the Bloomberg Terminal.
LEARN MORE