Perry and Fiorina Also Want to Scrap Filibuster to Repeal Obamacare
An internal divide is sharpening among Republican presidential candidates.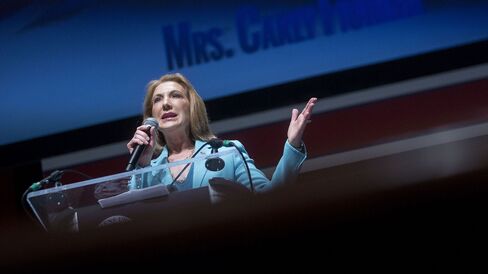 An internal divide is sharpening among Republican presidential candidates over whether to eliminate the Senate's 60-vote threshold in order to fight Obamacare if they win the White House.
On Tuesday, Carly Fiorina and former Texas Governor Rick Perry told conservative radio host Hugh Hewitt they would support using the "Reid Rule"—otherwise known as the "nuclear option"—to scrap the filibuster in order to try and repeal the Affordable Care Act.
"I would," Fiorina said. "And in this case, while I would be very reluctant to do so, the truth is that's how this thing was passed in the first place." She added, "Obamacare is a tangled web that is becoming worse, clearly, day by day."
Perry also answered in the affirmative.
"I'm for using the Reid Rule on—to break the filibuster," he said, explaining that he wants to get rid of it both to repeal Obamacare and to confirm Supreme Court justices with a simple majority vote. "I support using the Reid Rule to appoint these Constitutional conservatives as well. So I don't have a problem at all with breaking the filibuster."
Former Florida Governor Jeb Bush has said he'd "certainly consider" the idea; Wisconsin Governor Scott Walker said he would "absolutely" support it.
On the other side of the divide, Senator Ted Cruz of Texas has rejected the proposition even if it paves the way for repealing Obamacare, arguing that "ending the legislative filibuster would ultimately undermine conservative principles." On his side are Tea Party groups Club For Growth, Senate Conservatives Fund and Heritage Action, who want to preserve the legislative tool for blocking legislation in the future.
The divisions are a product of the latest intra-party debate over how to fight Obamacare in the wake of a Supreme Court decision last Thursday to shoot down a challenge to one of its core components. Republicans continue to call for getting rid of the five-year-old law.
Eliminating the filibuster, long a sacred cow for senators as it boosts their individual powers, would require 51 votes in the upper chamber, and Senate Majority Leader Mitch McConnell, Republican of Kentucky, is not on board.
"He has regularly opposed the nuclear option for the filibuster," Don Stewart, his deputy chief of staff, said in an email on Wednesday.
Before it's here, it's on the Bloomberg Terminal.
LEARN MORE