Bobby Jindal Teases Cute Kid Videos Ahead of Announcement
In hidden-camera videos, he tells his kids to be on their best presidential behavior.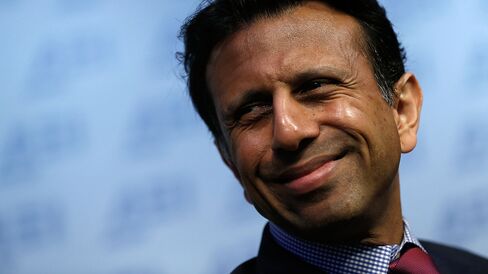 In the lead-up to his presidential campaign announcement Wednesday, Republican Louisiana Governor Bobby Jindal is releasing hidden-camera style videos of himself talking about the decision with his wife and children.
"You know, there are going to be people watching you, so you have to behave," he says. "No bunny ears behind your brother or anything."
Jindal's announcement is scheduled for Wenesday evening, and will be held outside New Orleans. The first video went up on Facebook on Tuesday night with a message saying that there would be several more.
Jindal's children are Selia Jindal, 13; Shaan Jindal, 11; and Slade Jindal, 8. In the quick snippet, the Jindal kids ask if they are going to have to dress up. The kids do not have microphones in the video, but Jindal answers a question about what will happen if he were to decide at the last minute not to run, after all.
"It'd be a short speech," he said. "You'd get up there and say, 'Thank you all for coming, I just want to tell you that I've decided not to run. Have a good night.'"
https://www.facebook.com/51275855094/posts/10153007354100095
Before it's here, it's on the Bloomberg Terminal.
LEARN MORE