Hollywood Producers Host Obama to Raise Funds for Democrats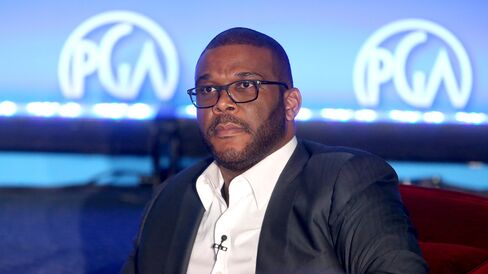 While some Republican presidential candidates canceled political events on Thursday after a mass shooting in Charleston, South Carolina, President Barack Obama carried on with fundraisers at the homes of two of Hollywood's most famous producers.
Tyler Perry, creator of the "Madea" series of movies, and Chuck Lorre, known for his CBS comedies "Two and a Half Men" and "The Big Bang Theory," will each help Obama raise money for the Democratic National Committee. About 250 supporters are set to attend a dinner event at Perry's Beverly Hills home, and Lorre will host about 30 people at his Pacific Palisades home.
Donors contribute as much as $33,400 to attend the events.
Obama briefly addressed the killings at the South Carolina church in his remarks at Perry's event.
"To see such a horrific event unfold like that is particularly shocking and it's a reminder that we've got a lot of work to do," he said. Obama told the donors that with such mass shootings occurring with increasing frequency, "I need you to mobilize and organize a constituency that says: That is not normal," and elect people who insist on a change.
San Francisco
Obama's fundraising is scheduled to continue on Friday with two events in San Francisco. Venture capitalist Shervin Pishevar, who has been involved in the development of Silicon Valley firms including Uber Technologies Inc, Tumblr Inc, and Warby Parker, will host the president at his Bay Area-home. About 30 supporters contributed $33,400 to attend, according to the DNC.
Uber has hired a number of former White House staffers in recent years. David Plouffe, who previously served as the president's senior adviser, now works as an adviser to the company and sits on the board of directors.
The president will also attend an event benefiting the Democratic Congressional Campaign Committee at the host of billionaire environmental activist Tom Steyer with ticket prices set at $10,000 or $33,400.
Pelosi Meeting
Also at the event will be House Democratic leader Nancy Pelosi, who opposed the president on legislation to give him fast-track authority to negotiate trade deals. Following a Democratic rebellion June 12, the House on Thursday revived the bill with mostly Republican votes.
Steyer, meanwhile, has been among the most vocal critics of the Keystone XL pipeline.
Critics of the $8 billion TransCanada Corp pipeline from Alberta, Canada, south through the U.S. have said it would adversely impact the environment. Supporters argue that it would create jobs and lower energy prices. The State Department is studying the project's environmental impact, and the president earlier this year vetoed legislation that would have bypassed that review.
White House press secretary Josh Earnest said Wednesday he did not know if Obama and Steyer, who was the founder of Farallon Capital Management, had discussed the pipeline.
Climate Stance
Earnest said he wouldn't be surprised, however, if Steyer's decision to host the fundraiser "was related to the president's very strong record of trying to cut carbon pollution and putting in place policies that will be in the best interest of our economy and the best interest of our planet."
Obama is scheduled to spend Father's Day weekend in Palm Springs before returning to Washington.
During past getaway weekends to the area, Obama has stayed at the private estate of Oracle Corp chief executive Larry Ellison, which boasts its own golf course. Ellison is ranked seventh on the Bloomberg Billionaires List, with an estimated net worth of $48.8 billion.
The president won't be the only high-profile Democrat looking to tap California donors this week. Hillary Clinton is also planning to host fundraisers this week in both Los Angeles and San Francisco.
Before it's here, it's on the Bloomberg Terminal.
LEARN MORE