Hillary Clinton Calls for Discussion of 'Hard Truths' After Charleston Shooting
The Democratic front-runner hints at wanting to take action on the issue while staying vague about just what that means.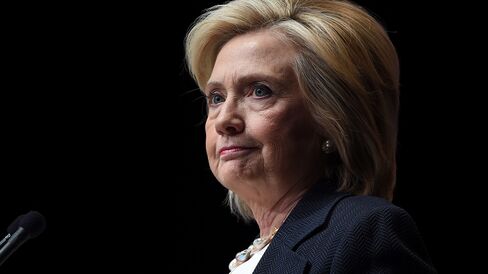 Hillary Clinton called Thursday for a discussion of "hard truths," including about guns, in the wake of a mass shooting at a South Carolina church that left nine people dead.
"We have to face hard truths about race, violence, guns and divisions," the Democratic presidential hopeful said, speaking to the National Association of Latino Elected and Appointed Officials after Wednesday night's shooting at Charleston's Emanuel AME Church.
Alluding to the mass shootings in Newtown, Connecticut, and Aurora, Colorado, she asked: "How many innocent people in our country—from little children, church members to movie theater attendees—how many people do we need to see cut down before we act?"
But while her former boss, President Barack Obama, voiced his frustration earlier Thursday about Washington's inability to tighten federal gun laws, Clinton hinted at wanting to take action on the issue while staying vague about just what that meant.
"Let's unite in partnership, not just to talk but to act," she told the officials in the room. Clinton press secretary Brian Fallon declined to elaborate on what Clinton was saying about her intentions on gun laws. She has traditionally been in favor of tightening gun laws.
Clinton leaned on the language of the civil-rights movement in discussing Wednesday's shooting, which took place at a black church. "The shock and pain of this crime of hate strikes deep," she said.
"You do not walk alone," she told the people of Charleston, drawing on a line used by Martin Luther King. "You do not walk alone because millions of Americans ... are walking with you, in grief, in solidarity, in determination. We are with you and we will stand with you as we seek answers and take action."
Churches, she said, are "the last place we should see violence but we shouldn't see it anywhere."
Clinton was in Charleston on Wednesday, visiting a community college to talk about tax credits for companies that offer apprenticeships and also to hold a fundraiser.
She left the city "feeling not only great about Charleston but great about America" only to learn about the shooting upon landing in Las Vegas on Wednesday night.
Clinton also used her appearance before a predominantly Latino audience as an opportunity to discuss her views on immigration, reiterating much of what she said during a May visit to Las Vegas. She was praised widely by immigrants' rights groups for saying she when she announced that wants to see nothing less than a "full and equal" path to citizenship for undocumented immigrants. She also said she would defend Obama's executive actions on immigration and look for ways to go even further, including by finding a way for the parents of DREAMers to be eligible for the same protections as their children.
"I will do everything that is possible under the law to go even further than what President Obama has attempted to achieve," she said Thursday.
Clinton called for an end to "divisive rhetoric that demonizes immigrants and their families" in a riff that ended up doing double duty as a jab at Republican presidential candidate Donald Trump's language on immigrants and in the aftermath of Wednesday's incident.
"We are blessed to live in a tolerant and generous nation. We should celebrate those values and model them in our own lives and in our politics," she said. "This ultimately is about how we treat each other, the kind of country and world we want to live in."
She continued: "When I hear words of hatred and anger directed at any of our fellow human beings, I ask myself, 'What is motivating them?' Do the people who feel so much hatred and anger ever look in the mirror and realize that they too are fellow human beings?"
Clinton spoke on the second day of a three-day gathering of NALEO, whose members members are Democratic and Republican elected and appointed officials at all levels of government. Independent Senator Bernie Sanders, a candidate for the Democratic presidential nomination, will speak to the group on Friday.
Former Maryland Governor Martin O'Malley did not attend the conference but sees room to Clinton's left and has pledged to push for comprehensive immigration legislation in the first 100 days of his administration, if elected. He said earlier this month during an appearance before the U.S. Hispanic Chamber of Commerce that "deportations should be limited to the public safety imperative."
GOP presidential hopeful Ben Carson was the only candidate from his party to accept an invitation to speak, and used his speech Wednesday to call for "seal[ing] our borders completely," to keep not only immigrants but potential terrorists out of the country.
Before it's here, it's on the Bloomberg Terminal.
LEARN MORE