In Iowa, Bush Defends 4 Percent Economic Growth Goal
He says easing immigration, loosening regulation, and a reworked tax code is part of his plan.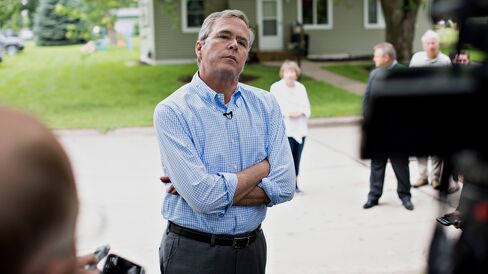 Jeb Bush insisted 4 percent annual U.S. economic growth for a decade is an attainable goal as he campaigned Wednesday in Iowa, brushing aside questions raised by economists about whether he's overreaching.
The Republican presidential candidate and former Florida governor said that easing immigration laws, loosening regulation, and simplifying the tax code would be part of his formula to nearly double the nation's current economic growth.
"Politics should be as much about aspirational goals and about backing it up with substance, and then explaining how you have the leadership skills to make it so," Bush told reporters.
Bush outlined the aggressive goal in his presidential campaign announcement speech on Monday. U.S. gross domestic product has averaged 2.7 percent growth over the past three decades.
"There's no way to grow at 4 percent with the current policies in place," Bush said. "We've allowed for the regulatory system to creep into a place that limits economic growth. It started long before Barack Obama became president but accelerated under his watch."
Bush said the nation also needs to do more to embrace the "energy revolution" and boost immigration. "You've got have a growing population," he said.
His remarks to reporters followed a campaign appearance in front of about 100 people outside a modest home in Washington, Iowa. The son of one president and brother of another presented himself as a Washington outsider who has a proven record in Florida.
Throughout his campaign rollout week, Bush has sought to remind voters and his party's leaders that he was once widely considered Republicans' best chance to win back the White House.
Bush has struggled to gain ground in early-state polls. He's working to try to move those numbers and has two events Wednesday in Iowa, before moving on to South Carolina, another early voting state.
Answering a question about immigration, Bush defended his desire for a more open U.S. policy, while calling for more security along the border. "Coming here legally should be easier than coming here illegally," he said.
Bush, a Catholic, was also asked by reporters about his views on the fact that Pope Francis has endorsed the science behind global warming and denounced the world's political leaders for putting national self-interests ahead of action.
"I respect the pope," Bush said. "I think he's an incredible leader, but I think it's better to solve this problem in the political realm. But I'm going to read what he says, of course."
Bush said he agrees that the climate is changing, but argued any action to reduce the problem need to be cautious.
"We need to develop a consensus about how to approach this without hollowing out our industrial core, without taking jobs away from people, without, you know, creating more hardship for the middle class of this country," he said. "I think we can do it. I believe there are technological solutions for just about everything."
A Bloomberg Politics/Des Moines Register Iowa Poll conducted in late May showed Bush continues to face headwinds in the state.
More than a third of likely Republican caucus participants in the poll said they would never vote for Bush, while more viewed him unfavorably than favorably, 45 percent to 43 percent. He ranked first with none of the demographic groups broken out in the poll's results, although he is second behind Wisconsin Governor Scott Walker among those 65 and older, college graduates, and Catholics.
Bush supporters have stressed that it's still early and not too much should be read into polls just yet.
Before it's here, it's on the Bloomberg Terminal.
LEARN MORE