Carly Fiorina Says Conservative Policies Help Women More than Liberal Ones
At a Washington speech on Thursday night, the former Hewlett-Packard CEO and Republican presidential candidate will say the U.S. needs to help women advance.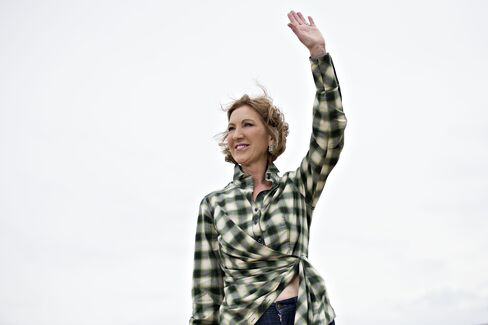 In a Thursday evening speech in Washington, Republican presidential candidate Carly Fiorina will weigh in on the status of women and suggest that conservative policies are the best suited to help them succeed in life.
The former Hewlett-Packard CEO will cite her personal history, describe being called a "bimbo" during her tenure at AT&T, and hearing suggestions that she was a stripper as she worked her way toward becoming the first CEO of a Fortune 100 company, according to a text of that the campaign sent to reporters. The speech will focus on her assertion that the U.S. underutilizes women's talent, can benefit by empowering them, and must provide them more opportunity.
"Here in this country, where women have more opportunities than anywhere else on Earth, we still can make our country a better place by fully tapping the potential of every woman," the speech says.
The solutions she'll proffer include a number of conservative proposals that she often advocates, including increasing school choice, simplifying the tax code, rolling back regulations, and reforming entitlements.
"If you are a single mom on food stamps and you and your children are depending on them, these programs make it so difficult to strive for more," the speech says. "It means going back to the welfare office ashamed and wondering whether you still qualify for benefits and can afford to buy diapers for your baby."
Fiorina, who opposes most abortion rights, will also call for birth control to be available over-the-counter and for an end to seniority systems in federal government employment.
In its current form, the speech also contained one notable omission: Hillary Clinton. Fiorina has often attacked the Democratic front-runner, although she insists the attacks are not based in the fact that both she and the former secretary of state are the only women seeking their party's nomination.
Fiorina will, however, take on the left more broadly, blaming its policies for the number of women in poverty and saying that Democrats have made feminism "a left-leaning political ideology where women are pitted against men and used as a political weapon to win elections." She will instead define a feminist as "a woman who lives the life she chooses."
"This is the first major speech of this campaign season by a Republican or a Democrat on the state of women in America," Fiorina said Thursday afternoon on a conference call with reporters. "I'm pleased to be able to begin the conversation."
Before it's here, it's on the Bloomberg Terminal.
LEARN MORE