Jeb Bush in Germany: Putin Has Changed
The Republican calls for more "robust" actions in the Baltic region, including the potential for permanent NATO troops.
Republican presidential hopeful Jeb Bush said the U.S. and its allies should consider permanently stationing troops in the Baltic region of Europe as a way to deter Russian President Vladimir Putin from advancing into more countries.
"We ought to consider putting troops there for sure," Bush told reporters as he prepared to leave Berlin, the first stop on a five-day, three-country tour that aims to polish his foreign policy resume before he formally announces his presidential bid Monday.
He added that there is a "real" risk facing Estonia, a country the former Florida governor will visit later this week.
"It's a tiny country neighboring Russia," Bush said. "They feel this threat more than other countries."
Asked what previous administrations have gotten wrong about Putin, Bush put the onus on the Russian leader. "Putin has changed," he said.
"He just invaded another country, that was different than it was a decade ago," Bush added, a reference to Russia's takeover of part of Ukraine. "This is a different Putin, much more aggressive. So I don't begrudge anybody trying to develop better relationships with any country. But it's clear that, in this particular case, the much-heralded reset didn't work out."
The "reset" was a dig at Democratic presidential front-runner Hillary Clinton, who as secretary of state declared one with her Russian counterpart. Bush did not join other Republicans in directly criticizing President Barack Obama, however. That may have been a sign of his respect for the old adage that politics stops at the water's edge. But it may also have been a way of providing cover for former President George W. Bush, Jeb Bush's older brother, who famously declared after a 2001 summit in Slovenia that he had "looked the man in the eye" and found Putin trustworthy. "I was able to get a sense of his soul," he added.
The younger Bush brother is taking a far different tone on a tour that is taking him to countries that were behind the Iron Curtain during the Cold War. He will travel to Warsaw on Wednesday and Tallin, the capital of Estonia, on Friday.
In that, he's echoing his brother. Promoting his book in a radio interview in 2010, George W. Bush said he had been disappointed in Putin, and suggested that the Russian leader was emboldened by a growing alliance between France and Germany. "I think to a certain extent, he changed," the older Bush said, adding that Putin "became more assertive, and, it seemed like, accumulated more power amongst a few there in Russia."
To handle Russia, "you need to deal from strength," Jeb Bush told reporters outside the Petana Berlin Tiergarten, a hotel about a half-mile from the city's historic Victory Column. He said it's the only way to get Putin's attention and respect.
"He's a bully," Bush said. "You enable bad behavior when you're nuanced with a guy like that. I think just being clear. I'm not talking about being bellicose. But just saying: These are the consequences of your actions."
Bush declined to say if the U.S. should commit additional air or naval power in Eastern Europe. "I think we already are doing it, and I think that in cooperation with NATO, that's the appropriate role for the United States," he said.
His press conference followed a speech Tuesday to an economic conference in Berlin, where he praised German fiscal discipline and stressed the importance of economic growth as a national security measure.
Bush told his audience of business leaders and conservative politicians that handling Russia required a careful approach. He said the 28 members of the North Atlantic Treaty Organization need to "push back" against Putin without isolating the Russian people.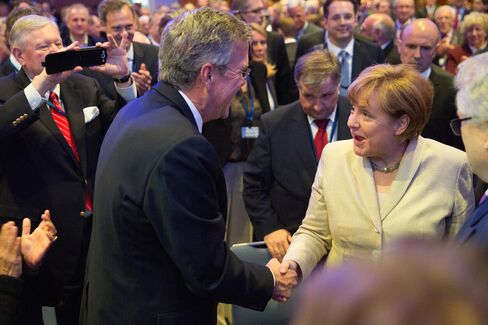 "We have troops there that move in and out, training exercises, but I think they could be more robust," he told reporters Wednesday. "There are things that we could do given the scale of our military to send a strong signal that we're on the side of Poland, the Baltics and the countries that truly feel threatened by the little green men, this new cyber warfare and these other tactics that Russia now is using.
Leaders in Estonia, Latvia, Lithuania, and Poland have called for more NATO troops in the Baltics. However, polling released Wednesday by the Pew Research Center shows a lack of public support in key western European nations for using military force if Russia attacked a neighboring member of NATO.
In the 10-minute news conference, Bush also addressed the staffing changes in his unfolding campaign in which David Kochel, expected to take over as campaign manager, will instead be moved to chief strategist. Danny Diaz, who has worked for the past three Republican presidential nominees, will instead be the campaign manager.
"This is an adjustment based on the skills of people that I got to know over the last three months," Bush said.
"It's a long haul," Bush said. "You start wherever you start, and you end a long way away from where we are today, so I just urge everybody to be a little more patient about this."
Bush said he was excited for Monday, adding that "I'm pretty confident that we're in a good position."
Before it's here, it's on the Bloomberg Terminal.
LEARN MORE