Rick Santorum's Solution for the Undocumented Population: Use E-Verify
He stops short of calling for undocumented immigrants' deportation.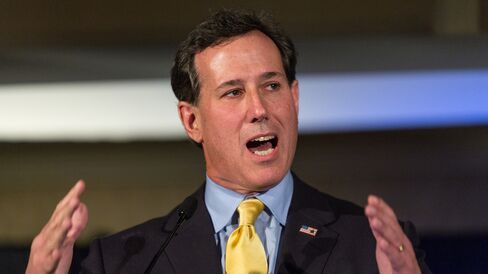 Republican presidential candidate Rick Santorum, who opposes a path to legalization for the estimated 11 million undocumented immigrants in the U.S., stopped short Sunday of calling for their deportation.
In an appearance on Fox News Sunday, the former Pennsylvania senator pressed his case for reducing legal and illegal immigration, arguing that new immigrants harm wages for recent immigrants and American workers.
"I approach this as: what is in the best interests of America, particularly American workers, and particularly those workers who are not doing well in America?" he said, adding that "we have more people living in this country who were not born in this country than anytime in the history of this country."
So what would he do about the estimated 11 million people already in the country illegally?
"You just use E-Verify. You require E-Verify," Santorum said.
No path to legalization?
"No," he said.
E-Verify is a program run by the Department of Homeland Security that lets employers check if prospective hires are authorized to work in the United States. Nearly half a million employers used it as of 2013, according to DHS.
The back-and-forth captures the tricky balance for Republicans on the issue. Many conservative voters oppose giving undocumented immigrants legal status, but Republican politicians who agree with that view are loath to call for mass deportation. American Action Forum, a conservative pro-immigration group, estimates that it would take two decades and cost between roughly $400 billion to $600 billion to deport them all.
"I don't think anyone with a sense of reality thinks we're going to ship 11 million or 12 million people back to where they're from," former Texas Governor Rick Perry, now a Republican presidential candidate, said in February.
Before it's here, it's on the Bloomberg Terminal.
LEARN MORE