Lindsey Graham on Caitlyn Jenner: 'She Is Welcome in My Party'
The candidate makes a pitch for the reality TV star's vote.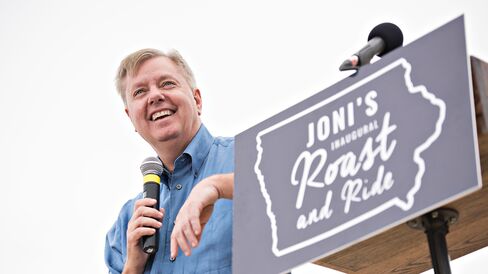 Republican presidential candidate Lindsey Graham says Caitlyn Jenner is welcome in his GOP—and he's making a pitch for the transgender Olympic gold medalist and reality TV star's vote.
"If Caitlyn Jenner wants to be safe and have a prosperous economy, vote for me," Graham said in an appearance on CNN's State of the Union that aired Sunday. He was speaking in Iowa, prompted by a question about influential conservative radio host Steve Deace's Jenner criticism. Deace said Jenner has a "mental disorder."
"I'm into addition," Graham said. "I haven't walked in her shoes. I don't have all the answers to the mysteries of life. I can only imagine the torment that Bruce Jenner went through. I hope he's—I hope she has found peace. I'm a pro-life, traditional-marriage kind of guy. But I'm running to be president of the United States. If Caitlyn Jenner wants to be a Republican, she is welcome in my party."
The South Carolina senator's comments came days after Jenner's highly anticipated appearance on the cover of Vanity Fair, and an ABC News special in April where Jenner, still appearing as Bruce, said she was a Republican and no fan of President Barack Obama.
As our colleague David Weigel has reported, reactions have ranged widely among Republican candidates to the transgender-rights movement and the new attention Jenner has brought to it. Graham last month said Jenner's experience "must have been hell," and former Pennsylvania Senator Rick Santorum said that "if [Jenner] says he's a woman, then he's a woman." Former New York Governor George Pataki last week pushed back against former Arkansas Governor Mike Huckabee's criticism of the movement, saying Jenner deserved "respect."
Before it's here, it's on the Bloomberg Terminal.
LEARN MORE