Jerry Brown's Actions Smell Louder Than Words as He Skips Shower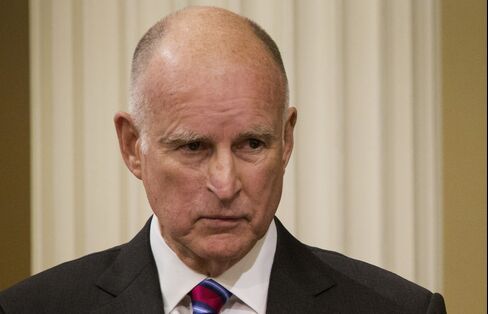 California Governor Jerry Brown, an evangelist for conservation as the state's drought intensifies, has cut back on drinking water and bathing.
"I didn't take a shower this morning," Brown told reporters Friday after a meeting with mayors in San Jose. "We've installed a low-flow system and we're using it quite carefully and quite sparingly."
While he continues drinking coffee and wine, he's reduced his water consumption, Brown said.
With no relief in sight from a record drought plaguing the most populous U.S. state, Brown in April called for a mandatory 25 percent reduction in water use statewide. The dry spell has forced farmers to leave land fallowed, spurred protests over companies bottling water and led to restrictions on lawn care.
Brown, a 77-year-old Democrat, met with five Silicon Valley mayors, including John McAlister of Mountain View, home to Google Inc., and Jim Griffith of Sunnyvale, home to Yahoo! Inc.
"This part of California is doing better than most," Brown told reporters after the meeting in San Jose Mayor Sam Liccardo's office. "Conservation goals are being met. We're not at the level that we want to attain, but we're doing very good."
Extreme drought grips 70 percent of the state, according to the U.S. Drought Monitor, a federal website.
Before it's here, it's on the Bloomberg Terminal.
LEARN MORE