Why Immigration Advocates Trust Jeb Bush Over Marco Rubio
Both men support "legal status" for undocumented workers, but their overall attitudes give pro-reform advocates very different impressions.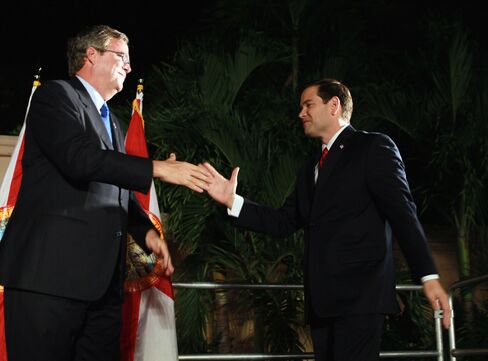 When Jeb Bush subtly swiped his Republican rivals for a tendency to "bend with the wind," as leaked to the Washington Post last week, a likely target was Senator Marco Rubio, his protégé-turned-rival, who abandoned his 2013 immigration bill under pressure from conservatives. On Sunday, Bush insisted he's "not going to back down on [his] views on immigration."
The two Floridians are the most pro-immigration Republicans polling in the top tier of the presidential field—both have endorsed "legal status" for undocumented immigrants, a view many conservatives decry as "amnesty." But pro-immigration activists seem to prefer the ex-governor to the senator, though they're less than thrilled with either of them.
"Jeb Bush has a pretty strong record as an immigration reformer," said Frank Sharry, the executive director of the pro-immigration group America's Voice. At the end of the day Bush "gets the benefit of the doubt on comprehensive reform in a way that Rubio does not," he said.
Why?
"Yes, technically Rubio is still for a path to citizenship. But his new 'step by step' approach will never result in a path to citizenship—and he knows it," Sharry said, calling Rubio's rhetoric "code for inaction" and lambasting him for having "betrayed and abandoned the cause when it was politically expedient for him to do so."
Unlike the comprehensive approach under his Senate bill, which passed 68-32 and died in the House, Rubio now supports a "sequential and piecemeal" approach, writing in his 2015 book American Dreams that his work on the issue taught him that "achieving comprehensive reform of anything in a single bill is simply not realistic."
His three-step plan says Congress must pass stricter border security and reform legal immigration before addressing the undocumented population. His final step offers them legal status without a guarantee of citizenship, but with the option to apply for it through regular channels after a long transition period, Rubio's campaign said.
For immigration advocates, Rubio's rhetoric is distressingly familiar. They've heard Speaker John Boehner and House Republican leaders promise "step-by-step" reforms for two years and refuse to act amidst the same opposition from the right that preceded Rubio's change of heart.
"It's a false start to this conversation," Clarissa Martínez-De-Castro, the deputy vice president of National Council of La Raza, said of Rubio's border-security-first rhetoric. She pointed out that illegal immigration is at its lowest level in more than a decade and that in recent years "the only thing that has continued to ratchet up is enforcement. .. So that notion is ludicrous. It's a knee-jerk reaction."
Bush supports a comprehensive approach that deals with border security, legal immigration and gives undocumented immigrants a path to legal status—a status that can never lead to citizenship, his political action committee said.
"I'm for a path to legalized status, where people get a provisional work permit," Bush said Sunday on CBS' Face The Nation, after they've met certain criteria such as paying taxes and a fine and learning English. "They don't earn citizenship."
A Bush aide pointed to the ex-governor's 2013 book Immigration Wars, in which he insisted that the legal status in that context "should not lead to citizenship." He wrote: "It is absolutely vital to the integrity of our immigration system that actions have consequences—in this case, that those who violated the laws can remain but cannot obtain the cherished fruits of citizenship."
Immigration advocates don't like that part of Bush's plan.
"Anything that prevents citizenship would go against what has worked in American immigration for more than 200 years of our history. A prohibition would be stupid," Representative Luis Gutiérrez, an outspoken pro-reform Illinois Democrat, told Bloomberg in a statement. "We should leave the citizenship lane open for those who qualify and encourage citizenship as much as possible."
Immigration advocates worry that such an approach would create a permanent under-class. The constituency for it is narrow—a 2013 Quinnipiac poll found that just 10 percent of registered American voters favor legal status without the possibility of citizenship; 56 percent support allowing undocumented immigrants to eventually become citizens. (Another 30 percent want them to leave the country.)
Regardless, these advocates prefer Bush's comprehensive approach. The procedural question is very important to them because few see any possibility of success under a piecemeal approach like Rubio has advocated, as the fragile coalition would likely shatter without a proposal that satisfies each of their prerogatives. Despite a push by Boehner in 2014, House Republicans never mustered the support to advance piecemeal immigration reforms.
"On the politics side, any one of these pieces that you want to try to move forward will meet the same intensity and opposition. The way to overcome that opposition is to unite as many people as you can and muster a pro-reform [coalition]," Martínez-De-Castro said.
The issue looms large in the 2016 election as many Hispanics—a growing constituency that provides critical votes in swing states like Florida, Colorado and Nevada—see immigration as a gateway issue when considering whether to support a candidate. Many Republican strategists believe the party must grow its share of the Latino vote to win future presidential elections.
"We need immigration reform, for cryin' out loud," Bush said Tuesday at a Republican economic summit in Orlando.
Winning Hispanics in a general election will be difficult for either Bush or Rubio. Democratic front-runner Hillary Clinton has made an aggressive pitch by calling for comprehensive immigration reform with a path to citizenship and proposing to expand President Barack Obama's executive actions to defer the deportation of millions of unauthorized immigrants. (Republicans, including Bush and Rubio, want to overturn those actions.)
"[Clinton] has set the bar for other candidates," Martínez-De-Castro said.
Before it's here, it's on the Bloomberg Terminal.
LEARN MORE