Carly Fiorina Reports Net Worth of $59 Million
The former Hewlett-Packard CEO also released two years worth of tax returns on Wednesday.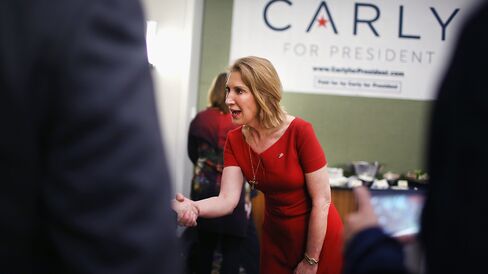 Presidential candidate and former Hewlett-Packard CEO Carly Fiorina is not, shall we say, hurting for cash.
Fiorina and her husband, Frank, have a net worth of $59 million according to financial discloses the couple made public Wednesday.
"This includes all financial assets, bank accounts, and real property," campaign spokesperson Sarah Isgur Flores said in a press release. "Note that real property is not required on the PFD [personal financial disclosure]. This means that if you are comparing her net worth to other candidates, you will need to add their real property to their PFD range."
Fiorina and her husband, who now live in Mason Neck, Virginia, released two years worth of tax returns. In the most recent year, 2013, they reported an adjusted gross income of $1,953,929 on their 1040 tax form. Of that amount, just $45,844 was reported in the form of wages, while $575,045 came from capital gains.
"In 2012 and 2013, the Fiorinas' effective tax rate (federal, state, and local) was 30%. Their effective federal tax rate was 20%," Flores said in the press release.
The Fiorinas own many individual stocks, but just $13,123.50 in HP, the company the Republican candidate was fired from in 2005. When she was ousted by HP board after overseeing the much-criticized merger with Compaq, Fiorina received a $21.1 million severance package. She also exited the company with another $21 million in stock options, the New York Times reported at the time.
In 2012 and 2013, the Fiorinas gave "an average" of 14% of their income to charity.
Before it's here, it's on the Bloomberg Terminal.
LEARN MORE