Does Anybody Remember Lincoln Chafee's Facebook Password?
His team is trying to do some last-minute touch-ups before he announces for president.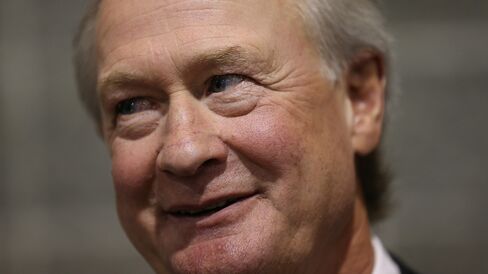 Getting ready to launch a presidential campaign is a lot of work. There's a speech to write, staff to hire, and social-media profiles to touch up.
That last task is tripping up Lincoln Chafee, a former Rhode Island governor who is set to announce Wednesday evening that he is setting out on a long-shot quest for the Democratic presidential nomination.
In a public Facebook post on May 28, Chafee's wife, Stephanie, asked, "Does anybody from my Husband's staff remember his FB page access?"
A spokeswoman for Lincoln Chafee, Debbie Rich, confirmed on Wednesday the post was authentic. (The post become publicly unavailable later Wednesday.) Chafee's campaign has lost track of the log-in credentials to the Facebook page that staffers started and managed for him as governor, Rich said, and that page seems to be attracting more attention than the page he has set up for 2016, so now they'd like to merge the two.
His gubernatorial page has about 6,100 likes and a verified checkmark, but hasn't had anyone posting to it since October. Chafee left office in January after serving one term. His 2016 Facebook page has fewer than 200 likes.
National Journal editor Scott Bland pointed out Stephanie Chafee's post on Twitter on Wednesday. The contender's wife "just thought some of her people who were her Facebook friends might have been the one that set it up," Rich said.
The former governor's wife has previously commented on Facebook about how little media coverage her husband is getting, according to the Associated Press. "No one has contacted him," she wrote after he announced the formation of an exploratory committee in April, according to AP (the post no longer appeared to be available to the public on Wednesday). "so SAD!"
Before it's here, it's on the Bloomberg Terminal.
LEARN MORE