Iowa Democrats Stick With Hillary Clinton in Bloomberg Politics/Des Moines Register Poll
Bernie Sanders has quickly risen as Elizabeth Warren's proxy for the anti-establishment alternative.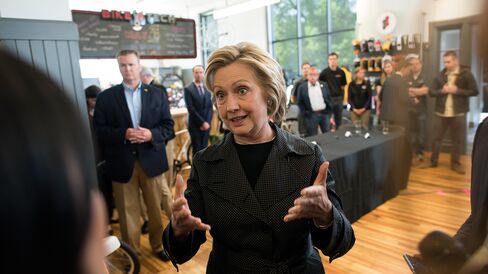 Hillary Clinton remains the overwhelming favorite among Iowa Democrats looking ahead to next year's presidential caucuses, though Bernie Sanders has quickly risen as Elizabeth Warren's proxy for the anti-establishment alternative.
Clinton is the first choice for 57 percent of likely Democratic caucus-goers in a new Bloomberg Politics/Des Moines Register Iowa Poll conducted May 25-29, up a percentage point from the previous poll in January. Controversies dating from her tenure as secretary of state, from her handling of the Benghazi attacks and her use of private e-mail to the Clinton Foundation's acceptance of contributions from foreign governments, have not weakened her campaign in Iowa, though many Democrats remain concerned they could hurt her in a general election.
Read the poll questions and methodology here.
Sanders, the independent senator from Vermont running for president as a Democrat, has surged to become the top pick of 16 percent of likely Democratic caucus-goers, more than triple the 5 percent he drew in January. Part of that is likely due to Sanders's recent formal entry into the race, while Warren, the Massachusetts senator whom many progressives urged to run as a liberal alternative to Clinton, has repeatedly said she won't run and wasn't listed as a likely candidate in this poll.
Vice President Joe Biden, who is not an announced candidate, is next at 8 percent, while former Maryland Governor Martin O'Malley and former Virginia Senator Jim Webb each drew 2 percent.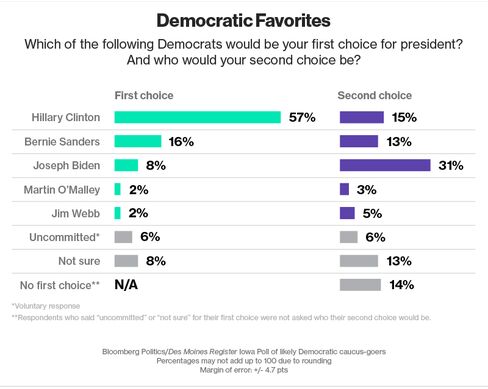 Sizeable minorities of likely Democratic caucus-goers said they believed Warren or Sanders better represents their political beliefs than Clinton—37 percent in the case of Warren, up from 26 percent last October, and 26 percent in Sanders's case.
"I'll support our side whatever it is," said poll respondent Kent Harfst, 53, a local government employee who favors Sanders but considers Clinton all but certain to be the nominee. "A lot of the stuff I read on Bernie, I agree with," he said. "I don't think he's electable. But I do like him."
He summed up Sanders's approach as "more fair for everybody and the rich aren't necessarily going to get richer. The shrinking of the middle class, that's my biggest concern." At the same time, Harfst said Sanders is "pretty far left." "I think the country is more ready for Hillary than for him," he said.
Clinton's favorability rating among likely Democratic caucus-goers is actually two points higher now, at 86 percent, than in January. Her unfavorable rating is down three points, to 12 percent. Sanders's favorability got a boost to 47 percent from 37 percent, while 41 percent still say they don't know how they feel about him.
"The reality is, this is a field where nobody has effectively stepped up to challenge Hillary Clinton, full stop," said J. Ann Selzer, president of West Des Moines-based Selzer & Co., which conducted the poll.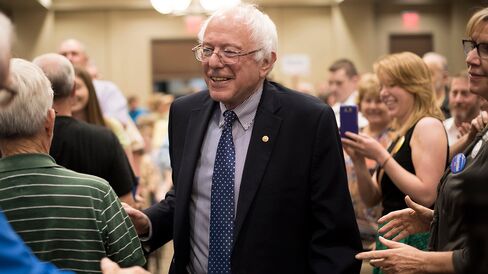 "There's the establishment—and then there's the anti-establishment. That used to be Elizabeth Warren. Now Bernie Sanders is stepping in and claiming the same space that she did, but she's closer to what they want than he is. There's this anti-Hillary vote. It just isn't very big."
Selzer said O'Malley's formal entrance into the race on Saturday is likely to yield a clearer indication of whether he too can gain traction. "You see that Bernie Sanders tripled his support," she said.
One relative area of weakness for Clinton is her standing with independents likely to caucus with Democrats. Only 39 percent of them said she is their first choice. At the same time, those independents weren't rallying around a single alternative. Sanders was closest at 20 percent.
One in five likely Democratic caucus-goers said they are bothered about her handling both of her private e-mail server while secretary of state and of the attacks in Benghazi, Libya, in 2012 and their aftermath, while 27 percent said they are bothered by the Clinton Foundation's acceptance of foreign government contributions. Higher percentages said they were worried about the implications of those controversies for Clinton's standing in a general election—41 percent, 39 percent, and 37 percent respectively. A full 66 percent were worried about the impact of at least one of the three challenges tested.
Overall, 71 percent of likely Democratic caucus-goers say the Clintons get a "bad rap" about unethical behavior rather than actually having behaved unethically. Likely Republican caucus-goers felt the opposite: 84 percent said the Clintons have shown a pattern of unethical behavior.
As far as the Democratic caucuses, however, "it's very difficult to look at this poll and say Hillary's vulnerable," Selzer said. "Of course it's early, things happen, things can change, but there isn't any evidence people are ready to jump ship."
The survey of 437 likely Democratic caucus-goers has a margin of error of plus or minus 4.7 percentage points.
Before it's here, it's on the Bloomberg Terminal.
LEARN MORE