Tech Champion De Blasio Under Fire on Plan to Regulate Uber Apps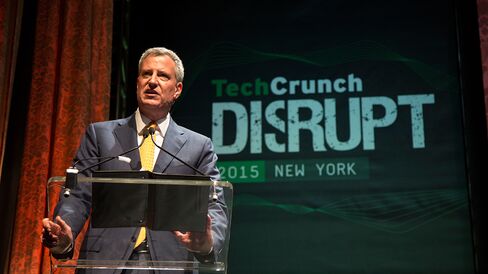 New York Mayor Bill de Blasio presents himself as a champion of the technology industry. The industry says he's trying to smother progress one app at a time.
The mayor's plan to require Uber Technologies Inc., Lyft Inc. and other ride-hailing services to get city approval for upgrades to the user interface on smartphone apps -- and to pony up $1,000 each time they do -- has rankled a broad swath of companies, with 27 signing a letter protesting his plan. It's also raised questions about whether the mayor is siding with taxi and limousine owners who helped finance his 2013 campaign.
The letter was signed by Google Inc., Yahoo! Inc., Twitter Inc. and Facebook Inc., among others. The mayor says he wants only to protect the public from receiving misleading or inaccurate information about fares. The Taxi & Limousine Commission is holding a hearing on the matter Thursday.
"We are troubled by the substance of the draft, which appears to indicate a significant departure from this administration's policy of encouraging innovation," says the letter from the Internet Association, a trade group.
The spat puts de Blasio in the middle of a fight between the technology industry, which accounts for about 300,000 jobs and $30 billion in yearly wages, and cab companies that contributed more than $500,000 of the $10.6 million he raised in his campaign. It mirrors a national debate over how to regulate ridesharing services like San Francisco-based Uber, which has grown to include 160,000 drivers in 45 states.
Roadblocks Cited
The letter arrived at City Hall May 13, nine days after TechCrunch Disrupt, a gathering in Manhattan where de Blasio pledged to support the industry, acknowledging to the audience of aspiring startup entrepreneurs that on technology issues, governments often get it wrong.
"We have not always had the best track record when it comes to innovation," the mayor said. "In fact, a lot of us have been frustrated over the years with some of the bureaucratic roadblocks to necessary change."
Wiley Norvell, a mayoral spokesman, said in an e-mail that the proposed rules are designed to foster creativity while protecting the public.
"We're confident it's the right approach and we look forward to the input of riders, businesses and innovators," he said.
In Uber, de Blasio confronts an antagonist with an estimated $50 billion valuation that moved into the city four years ago as a licensed black-car limousine service. It has already swiped as much as 20 percent of the car-for-hire business, according to Ira Goldstein, executive director of the Black Car Assistance Corp., a trade group.
The administration's proposed rules would "help level the playing field," Goldstein said.
There are now more Uber cars in New York than yellow taxis. The company has 15,000 cars signed up to troll the city's streets, with drivers responding to mobile apps that automatically transmit a user's location. By comparison, the TLC says more than 13,000 yellow cabs operate on city streets.
"Companies like Uber are making New York City's transportation system more progressive by giving drivers a new way to earn a better living, eliminating discriminatory hailing and allowing New Yorkers to get a ride in every borough," Uber spokesman Matt Wing said in a statement. "Instead of encouraging this progress, these draft rules threaten the options NYC riders and drivers have come to rely on."
Uber should have to follow the same strict regulations imposed on taxis, said Michael Woloz, a lawyer and lobbyist for the fleet owners, who helped raise money for de Blasio.
"Uber is a yellow taxi that's not yellow," Woloz said. "It picks up street hails just like a cab, except you tap on your phone instead of raising your hand. When it suits them, they call themselves a technology company, but they are a car service and the city should be able to regulate them."
No Connection
TLC spokesman Allan Fromberg says political contributions from traditional car-for-hire and cab companies had nothing to do with the proposed rules. The commission isn't trying to impede the growth of Web-based startups like Uber and Lyft.
"They're hard-wired not to want to be regulated," Fromberg said. "They keep on looking for ways to say we are micromanaging."
The regulation covers only how the application will look to users and whether it accurately describes the fare, Fromberg said. The commission has invited Uber and other Web-based companies to suggest their own rules if they consider the proposed ones too broad or onerous, he said.
"We have legitimate passenger concerns," TLC Chairwoman Meera Joshi said in an e-mailed statement. "Particularly transparency as to pricing and who is providing the actual service, which, plain and simple, would just be an extension of our regulation of the for-hire industries."
'Innovation Center'
Internet Association President Michael Beckerman said the fee plan would impose "unbearably high costs on new entrants." Fromberg, the TLC spokesman, dismissed the proposed fee as "minuscule for companies with millions of dollars in sales."
Joshi said the fees are comparable to the commission's other charges for licensing approvals.
"This is not about Uber; it's about making sure New York City remains recognized as a great innovation center and the mayor's previous commitment continues," said Andrew Rasiej, who signed the Internet Association letter as chairman of NY Tech Meetup, a 40,000-member group of technology workers, investment bankers and corporate information officers.
No matter who has the best argument, the fact that de Blasio's campaign treasury was enriched by more than a half-million dollars in donations from the taxi and limousine industry creates an appearance of conflict even if the proposed rules are a good idea, said Dick Dadey, executive director of the Citizens Union, a New York City good-government group.
"Buckets of donations from an interest group always leave the impression, whether deserved or not, that money influenced the outcome, when a decision favors the contributors," Dadey said.
Before it's here, it's on the Bloomberg Terminal.
LEARN MORE