National Archives Says 1,200 Hillary Clinton E-Mails 'Personal'
Archivists spent four days poring over the former secretary of state's emails.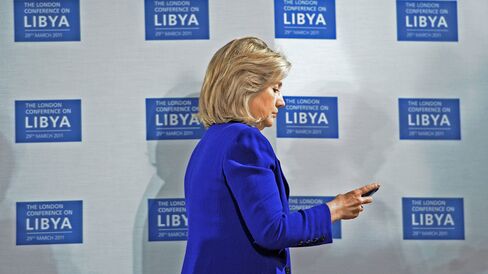 More than 1,200 e-mails of more than 30,000 turned over to the State Department by Hillary Clinton have been deemed personal by National Archives officials—and will never be required to be made part of the public record.
The National Archives and Records Administration reported its finding to the State Department in a May 6 letter about the former secretary of state's e-mails, which endorsed an earlier determination by the department itself.
"The goal of this review was to validate that the department correctly applied federal statutes, regulations, and guidelines in identifying the personal correspondence of the former secretary," in the letter.
"Based on our review, NARA concurs with the department's determination that these 1,246 e-mails are personal in nature and do not meet the definition of a record as defined in the Federal Records Act," write writes Paul Webster, Chief Records Officer for the U.S. Government, who said he spent four days combing through the e-mails with State Department archivists last month. That's in addition to 31,000 e-mails that the public will never see because Clinton, who is now running for president, decided herself that they were personal and destroyed them before turning over her e-mail files to the State Department. Clinton's excisions were reported by her lawyer, David Kendall.
This week, a U.S. District Judge ruled that nearly 30,000 other e-mails Clinton did turn over in December—and which the State Department is continuing to review before releasing—must be made public on a rolling basis, rather than in one release early next year as the State Department had proposed.
U.S. District Judge Rudolph Contreras also ordered the State Department to update the status of document production every 60 days and to propose a deadline for making public any of Clinton's e-mails related to the deadly 2012 attack on a U.S. mission in Benghazi, Libya.
The State Department says it as already turned over 296 of Clinton's e-mails that are related to Benghazi to a U.S. House committee investigating the Benghazi attacks, which left four Americans dead. Those e-mails are to be posted by the State Department, possibly within days.
Controversy over Clinton's use of personal e-mails for official State Department communications erupted after the department included in its production of documents for Benghazi committee eight e-mails to or from Clinton.
That led the committee since last fall to press for all of the former secretary's e-mails. And in December, Clinton's lawyer turned over 55,000 printed pages worth—some 30,000 e-mails—to the department. Of those, nearly 850 pages, or 296 e-mails, that the State Department deemed Benghazi-related, were turned over to the committee in February. Those e-mails are scheduled to be made public soon. It was not until late February, however, that the State Department informed the committee that Clinton in fact did not have a government e-mail address, at all, and exclusively used and maintained a private e-mail server.
Before it's here, it's on the Bloomberg Terminal.
LEARN MORE