Rand Welcomes Hillary to the Felon Voting Rights Cause–But She's Been There for Years
The Democratic frontrunner has called for felon voting rights for 10 years.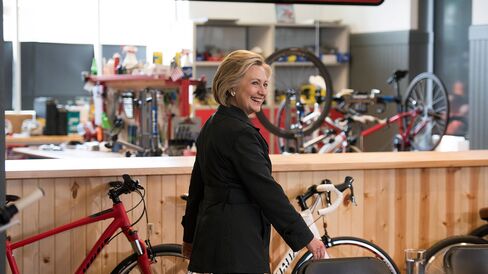 Before she took her first questions from reporters in four weeks, Democratic presidential front-runner Hillary Clinton took a little time Tuesday to undercut Rand Paul.
"Many people in the community, because of where they live, because maybe they did make a mistake and they don't get their voting rights back, which I totally disagree with," Clinton told a potential voter at a forum in Iowa. "I think if you've done your time, so to speak, and you've made your commitment to go forward you should be able to vote and you should be able to be judged on the same basis. You ought to get a second chance."
Just as she had done in April, in a speech at Columbia University, Clinton had talked about criminal justice reform in the same manner as the Republican senator from Kentucky. Just as it had then, Paul's presidential campaign sarcastically welcomed Clinton to the party.
"Glad to see her once again joining Senator Paul in undoing some of the damage the Clinton administration did," Paul's political adviser, Doug Stafford, told Bloomberg. "There are certainly enough people who served time because of their policies."
That barb stung when Clinton was talking about over-criminalization. When it came to felon voter rights, she actually had a lead on Paul. In 2005, two years before announcing her first presidential bid, Clinton co-sponsored the Count Every Vote Act. It was a package of reforms that grew out of Democratic anger at the 2000 and 2004 elections, coming weeks after Senator Barbara Boxer of California had actually challenged the official electoral vote count on the Senate floor. And it would have restored voting rights for felons.
Clinton took heat for that. "Should convicted murderers be allowed to vote?" the Washington Times asked in a 2005 editorial. "If the federal Count Every Vote Act of 2005 passes, they will be." Other conservative taste-makers latched on to data from Jeff Manza and Marcus Britton of Northwestern University and Christopher Uggen of the University of Minnesota, about the Democratic leanings of felons. "Thirty percent of felons would vote if Hillary's law was passed," wrote a reporter for Newsmax in 2005. "With 85 percent of felon voters statistically likely to vote Democrat, that could add up to 1.2 million votes to presidential candidate Clinton's tally in 2008."
The Count Every Vote Act went nowhere in 2005, and didn't become a priority when Democrats took the Senate–and when Clinton was actually running for president. But Paul has made voting rights restoration a theme of his campaign, and as a Republican, he's more able to portray it as something that's right for America even if it looks bad for his party.
"I've been a louder voice for criminal justice than any Democrat has been out there so far, and I'll continue that," Paul told reporters Monday at a news conference in Philadelphia. "I think the Democrats have taken the African-American vote for granted. Every time I go into our big cities and talk to black leaders, I hear them say, haven't talked to my congressman in years, because they think my vote is automatic. I'm going to be a Republican who says no one vote anywhere in America is automatic for either party."
Jennifer Epstein contributed reporting.
Before it's here, it's on the Bloomberg Terminal.
LEARN MORE