Senate Advances Bill to Give Obama Trade Negotiating Power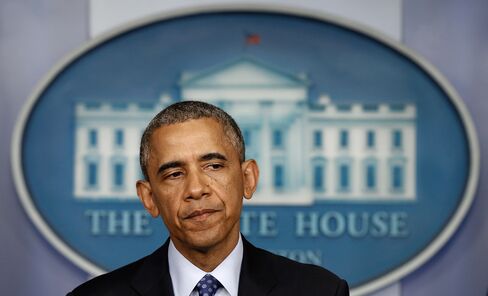 The U.S. Senate advanced a measure allowing President Barack Obama to expedite approval of trade agreements, a bill with bipartisan support in that chamber that may run into strong opposition from House Democrats.
The 65-33 vote Thursday followed separate votes sought by Democrats to pass proposals curbing currency manipulation and boosting imports from sub-Saharan Africa. The Senate plans to consider amendments to the fast-track trade proposal next week.
A rebellion Tuesday among Senate Democrats seeking the currency provision previews what may be fiercer battle ahead between Democrats and House Speaker John Boehner, an Ohio Republican.
"There's a broad feeling we have to do something against China" on currency manipulation, New York Senator Charles Schumer, told reporters before the vote on advancing the trade bill. He called the currency measure "a shot across China's bow that we're not going to just sit there and do nothing."
Thirteen Democrats joined with Republicans to advance the measure. Schumer, the chamber's third-ranking Democrat and a leader of this week's rebellion, wasn't among them.
The fast-track bill would allow Obama to submit trade agreements to Congress for an up-or-down vote without amendments. He hopes to complete a 12-nation Trans-Pacific Partnership and send it for fast-track approval.
Labor Unions
On Tuesday, Democrats blocked Republicans from advancing the fast-track bill without also voting on the currency measure. Many Democrats remain stung by the 1994 North American Free Trade Agreement, which is blamed by labor unions for a decline in U.S. manufacturing jobs.
The trade bill, H.R. 1314, would give Obama and the next president fast-track powers for six years.
Senate Majority Leader Mitch McConnell, a Kentucky Republican, said Thursday the agreement to separate the two measures from the broader trade bill was a sensible plan.
"I'd like to thank the president," McConnell said. "No, you're not hearing things. President Obama has done his country a service by taking on his base and pushing back on some of the more ridiculous rhetoric we've heard."
The administration said it favors parts of the measure but opposes the way it addresses currency manipulation.
The currency measure would give the Commerce Department new power to penalize imports from countries that manipulate exchange rates. Schumer has for a decade wanted stronger action against countries -- notably China -- that drive down the value of their currencies to make exports more competitive.
Existing Agreements
The Treasury Department opposes the Schumer provision, arguing that it would expose the U.S. to retaliation and could violate U.S. obligations under existing trade agreements. Treasury prefers to address currency issues in other talks, led by finance ministers.
Even Schumer has acknowledged the measure would draw a presidential veto. In the House, Representative Paul Ryan, the Wisconsin Republican who is chairman of the Ways and Means Committee, has repeatedly opposed currency-related riders on trade legislation.
The currency language was added to U.S. Customs legislation that includes a number of measures to enforce existing U.S. trade laws, sought by companies including the steel industry, as well as child-labor laws.
While many Democrats plan to oppose granting Obama fast-track authority, former U.S. Trade Representative Ron Kirk told Bloomberg reporters and editors in a meeting Wednesday that such opposition isn't strong enough to prevent it from passing this year.
Obama Rebuke
Tuesday's rebellion by Democrats was a rebuke for Obama, who in recent weeks has been in meetings, on the telephone and in personal appeals seeking every possible Democratic vote.
House Speaker John Boehner said that passing the trade measure "is going to require Democrats putting aside politics and doing what is best for the country."
"More trade means more jobs for the American people," Boehner, an Ohio Republican, told reporters Thursday.
House Minority Leader Nancy Pelosi, a California Democrat, said at a news conference that among her members, "there is a belief that currency manipulation" has been a cause of job losses.
Without saying whether House Democrats would support the fast-track bill, Pelosi said one "overriding concern" was that the measure would be in effect for six years, not just for approval of a trans-Pacific agreement.
'Let's See'
"You're asking for fast track; let's see what you're asking for it for," she said.
AFL-CIO President Richard Trumka called on Democrats to continue to insist on combining the currency measure into the fast-track trade bill.
"Anything less leaves America's workers, domestic producers and communities behind," Trumka said in a statement Wednesday.
The Senate also voted 97-1 Thursday for a measure to create a trade preference program for sub-Saharan African imports, which the Obama administration said it supports. The vote was 78-20 for the currency proposal.
The currency manipulation measure is H.R. 644, and the African trade-preferences bill is H.R. 1295.
Before it's here, it's on the Bloomberg Terminal.
LEARN MORE