Marco Rubio: I'd Oppose Iraq War If I Knew What We Know Now
The senator breaks with fellow Floridian and Republican presidential rival Jeb Bush.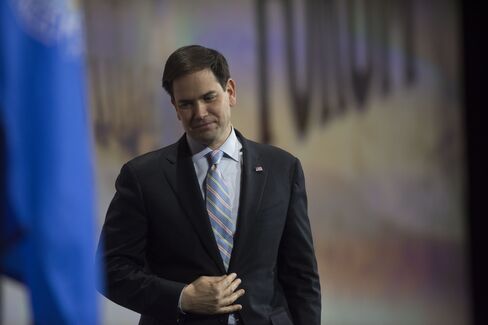 Senator Marco Rubio said Wednesday he would have opposed the invasion of Iraq if he knew, as is known now, that Saddam Hussein did not possess weapons of mass destruction.
"Not only would I have not been in favor of it, President Bush would not have been in favor of it," the Republican presidential candidate said after a speech at the Council on Foreign Relations. "President Bush has said he regrets that the intelligence was faulty. I don't think Congress would've voted in favor of authorization if they knew that."
Related: Every Republican Rival Has a Better Iraq Answer than Jeb Bush
The remark followed a controversy engulfing fellow Floridian and Republican rival Jeb Bush, who recently said he would still have supported the invasion that his brother, former President George W. Bush, initiated even if he knew Hussein did not possess weapons of mass destruction. Jeb Bush more recently attempted to walk his comment back.
Elliott Abrams, a former national security adviser in the Bush administration, said most Republicans would have also opposed the invasion in that scenario.
"I think that most of the Republicans would say no -- that the proximate cause of the invasion was the intel about WMDs. And had that intel not been there, we would've tried to get the no-fly zone going and the sanctions going," he said.
Danielle Pletka, senior vice president for foreign and defense policy studies at the conservative American Enterprise Institute, said Jeb Bush "for sure he didn't handle it optimally" when asked about Iraq.
"I think no matter how thoughtful he is, no matter how he seeks to distinguish himself he's going to have the baggage of the Iraq war and of his brother's administration on him," she said.
On March 30, 2015, Rubio was asked on Fox News if the Iraq war was a mistake. "The world is a better place because Saddam Hussein [is] not in Iraq," he responded. "Hindsight is always 20/20, but we don't know what the world would look like if Saddam Hussein was still there."
Polls suggest that in retrospect, most Americans believe the Iraq war was not worth it.
Before it's here, it's on the Bloomberg Terminal.
LEARN MORE