Is New Hillary Clinton Super-PAC Pushing Legal Boundaries?
A new group will raise big-dollar donations to help the Democratic front-runner.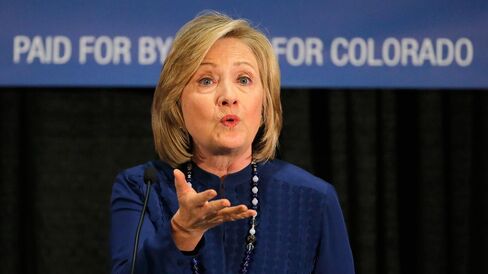 A second, semi-official super-PAC is being formed to help Hillary Clinton, and in an unusual twist, has announced plans to coordinate with the Democratic presidential front-runner's campaign.
The move is the latest manifestation of a new trend in 2016 politics: the outsourcing of routine campaign functions to outside groups that are permitted to raise money in unlimited amounts. Candidate committees are limited to donations of $5,400 a campaign cycle from individuals. Last month, the Associated Press reported that all-but-declared Republican presidential candidate Jeb Bush will be running much of his campaign through a super-PAC.
Clinton's newest super-PAC ally, Correct the Record, is spinning off from American Bridge, another super-PAC that formed four years ago and that conducts opposition research on Republican presidential hopefuls. Correct the Record, which has been serving as a rapid-response team to defend Clinton since November 2013, is being recast as an independent super-PAC that will continue to serve as "a political research and communications war room," the group said Tuesday.
What's unusual is that Correct the Record plans to coordinate with the Clinton campaign and potentially other federal campaigns and Democratic party committees—something that quickly drew skepticism from watchdogs who find it difficult to see how the group can function without running afoul of campaign finance laws. Those laws are designed to prevent committees that collect big-dollar contributions from having direct contact with campaigns.
Correct the Record's plans to coordinate with Clinton's team amount, at the very least, to a "campaign finance law boundary-pushing" arrangement, said Paul S. Ryan, senior counsel at the Campaign Legal Center. As a super-PAC, the group "cannot make any contributions to a candidate directly or in kind," he said.
Correct the Record's communications director, Adrienne Watson, defended its approach, arguing that "FEC rules specifically permit some activity—in particular, activity on an organization's website, in email, and on social media—to be legally coordinated with candidates and political parties."
She added: "This exception has been relied upon countless times by organizations raising non-federal money." The group's lawyer, who declined to be named for the record, pointed to nonprofit issue-focused groups like the National Rifle Association and the Sierra Club, which can communicate with candidates and convey their views through press releases or on websites, as playing a similar role.
If Correct the Record follows through on its plans to bulk up its existing rapid response and research structures, it could allow Clinton campaign to outsource some of the functions that have typically been part of presidential campaigns to a group that can collect dollars in much larger denominations than she can legally. That could mean that Clinton's campaign committee could focus its more funds elsewhere.
A Democratic lawyer supportive of the Correct the Record-Clinton campaign alliance dismissed the argument that the group's work would amount to an in-kind contribution, saying it's no different than a state political party doing rapid response to defend a presidential candidate.
Correct the Record is the second super-PAC to largely focus on boosting Clinton. The other is Priorities USA Action, the group formed in 2012 to support President Barack Obama's re-election campaign. That group will not coordinate with the Clinton campaign but the candidate and her team have signaled that she welcomes Priorities' efforts. Clinton met last week with a few potential donors to Priorities and former Clinton staffers including her 2008 political director, Guy Cecil, are coming on board to balance the influence of the Obamans still there.
There's at least one preliminary hint that the new super-PAC has the Clinton campaign's blessing too: Correct the Record is represented by lawyers in the Washington office of Perkins Coie and the Clinton campaign's general counsel is Marc Elias, chair of the firm's political law practice.
Regardless of the legal precedents it cites for the coordination it plans with Clinton, Correct the Record will draw plenty of scrutiny. "We will be monitoring the activities of Correct the Record and the Clinton campaign very closely," Ryan said, and CLC will file complaints not only with the Federal Elections Commission but with the Justice Department, if it believes that campaign laws have been violated.
Before it's here, it's on the Bloomberg Terminal.
LEARN MORE