Rand Paul Courts California Tech Elite With San Francisco Visit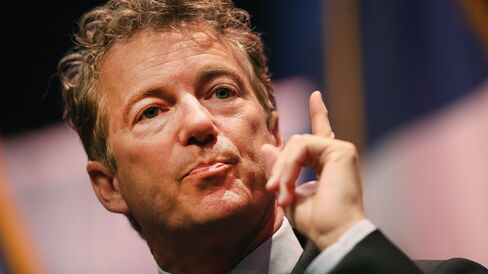 Presidential candidate Rand Paul began his courtship of California's technology community on Saturday, promoting his support for privacy rights, a smaller government and adherence to the Bill of Rights.
"Some people want to know what in the hell is a Republican doing in San Francisco?" the Kentucky senator, 52, said at a campaign stop in San Francisco's South of Market neighborhood, the epicenter of the city's tech startup industry.
"I want to be a different kind of Republican, one who respects the entire Bill of Rights," Paul said.
Paul, who announced his candidacy last month, is running on a free-market, limited-government platform that resonates with the anti-government, libertarian sensibilities of much of California's tech elite. He's called for an end to National Security Agency domestic spying, cutting taxes and curtailing government regulations.
"What we want is a government that leaves us alone," Paul said. "There are a lot of folks in Silicon Valley who say, 'You know what? Enough is enough.'"
Those attending were encouraged to label their tweets with the hashtag "DisruptingDemocracy."
San Francisco and neighboring Silicon Valley are popular fundraising destinations for presidential candidates because of their plethora of politically savvy billionaires, including environmentalist Tom Steyer and Facebook Inc. Chief Executive Officer Mark Zuckerberg. Presidential candidate Hillary Clinton attended fundraisers in San Francisco this week.
Fundraising Dinner
Paul's one-day stop in the city included a lunch with tech entrepreneurs and a fundraising dinner. Both events included "some known people" from the tech industry, Paul's spokesman Sergio Gor said, declining to name them.
Paul defended his opposition to net neutrality, a tech industry-supported position that Internet traffic gets equal treatment and rich companies can't pay for superior speed. Paul supports deregulation and the practice of charging more for something that's faster, he said in a question-and-answer session with a local reporter.
While Paul's views on shrinking government align with the tech community, he said his conservative views on social issues, including same-sex marriage, won't come into play.
"A lot of the social issues don't tend to change at the federal government level," he said. They "should be left more to the local municipalities and states."
Startup Space
Paul spoke at StartupHouse, an office that rents individual desk space primarily to tech entrepreneurs and where Paul's campaign plans to rent space. The office, on a busy commercial street within walking distance of social-network giant Twitter Inc., is in a building that once served as the headquarters of Good Vibrations, a chain of sex-toy shops.
"Not only are we going to have a committee out here in San Francisco helping us to get votes, we're also going to be out here advocating for privacy," Paul said.
The space gives him a foothold in one of the wealthiest areas in the U.S., where a technology industry boom has cut the unemployment rate to 3.6 percent and pushed median home prices to $1 million, the nation's highest.
The ties between Washington and Silicon Valley have grown stronger in recent years as newly rich tech moguls steer cash into political campaigns and dabble in politics.
Political Network
Sean Parker, the billionaire former president of Facebook, is starting Brigade, a social networking startup that plans to connect people with an interest in politics. Investors include billionaire Marc Benioff, CEO of Salesforce.com Inc., and Ron Conway, an early investor in Twitter and Google Inc.
"He is unorthodox," Matt Mahan, 32, Brigade's CEO, said of Paul's appeal to the tech community. "There's at least a perception, and very well may be a reality, that he speaks more directly and more honestly about important issues than many candidates who feel beholden to a particular party line."
In March, Conway and Parker founded the Economic Innovation Group, a Washington-based advocacy organization aimed at addressing the country's economic challenges.
California is a Democratic stronghold whose voters haven't favored a Republican for president since 1988, when George H.W. Bush narrowly defeated the Democratic candidate Michael Dukakis.
Before it's here, it's on the Bloomberg Terminal.
LEARN MORE