We Visited the GOP's Outreach Office in Solidly Liberal Detroit
After the 2012 election, Republicans made an effort to boost their minority outreach. Here's how their office in the Motor City is doing a year and a half after opening.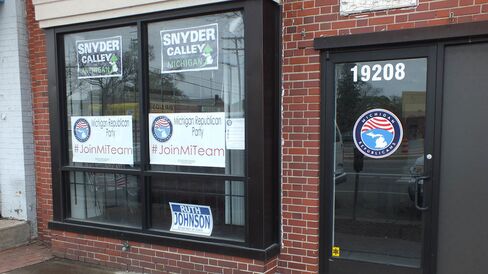 Things didn't start out well for the GOP's Detroit outreach office.
First it was the messaging—the office quickly became known as the "African-American Engagement Office," which seemed to be a tone-deaf name for a party trying to improve its image.
Then, when the office opened on Dec. 6, 2013, Kentucky Senator Rand Paul spoke briefly to a mostly black audience. But that appearance didn't get as much attention as his second speaking engagement at a nearby church. There, as seen in a video released by the liberal tracker group American Bridge, Paul addressed a mostly white audience on the party's outreach potential. The event, meant to "celebrate the opening of [the] new office in Detroit" according to a Michigan GOP Eventbrite listing, was also protested by members of Al Sharpton's National Action Network and the Michigan Democratic Party.
Nearly a year and a half later, the office is still there, trying to recruit minorities in an 82 percent black city that gave 97.5 percent of its vote to President Obama. The office, a joint project between the Republican National Committee and the Michigan Republican Party, is located in the middle of what's known locally as the "Avenue of Fashion," a stretch on Livernois Ave. dominated by clothing and hair styling businesses. Like a lot of Detroit, it has seen better days. Now, a few buildings in the neighborhood are abandoned, while others were closed or open with no customers on a Monday afternoon.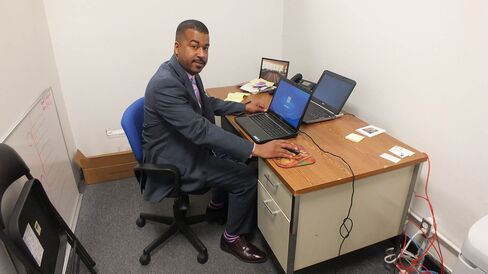 The office is staffed by the party's head of African American Engagement Wayne Bradley and office manager Gina Barr. It's small, with grey carpet and white walls decorated with old campaign signs and posters that read "Believe in Michigan JOBS FIRST." Behind Barr's desk are four text portraits—the Detroit skyline, Abraham Lincoln, Ronald Reagan, and Martin Luther King Jr.—drawn by Barr's sister. Bradley and Barr are both friendly in the way you probably have to be when a large part of your job is talking to people with opposing political views.
"If you don't agree with me that's fine, but just come in and let's have that dialogue," Barr said during an interview in the office.
Listening to Bradley and Barr, you might think that Detroit is full of potential black Republicans who agree with the party's platform but just don't realize it yet. Their job isn't to change the minds of people who oppose specific policies—the field office focuses on getting out the vote, and recruiting and training volunteers—but to spread the Republican message to places it hasn't been before. As Paul said at the office's opening, the party believes: "[w]e don't have to change our message, we have to present our message. We have to make our case."
After all, people switch parties all the time. Hillary Clinton was once a Republican and former Texas Governor Rick Perry was an elected Democrat. Ben Carson, who announced his presidential candidacy on Monday, grew up as a Democrat and benefitted from the kind of liberal programs his party would trim. Carson said he grew up thinking Republicans were "evil, racist people" until he "started listening to Ronald Reagan and I thought God it just makes so much sense."
Bradley had a similar experience—but it was a decade later and Jack Kemp, his political idol, was Bob Dole's running mate in the 1996 election.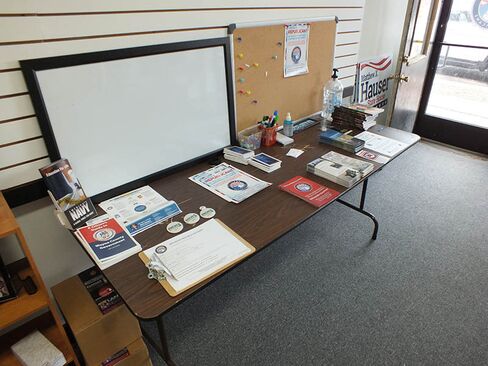 "Before I start criticizing Democrats and things of that nature I like to just find out where they stand on the issues. And then, surprisingly enough, after we talk about the issues they believe in, I say 'Now those are all Republican principles,''' he said. "They're puzzled a little bit, but it's really more about just having a dialogue, because it doesn't do me any good to just batter the Democrats, or bash President Obama."
The sense is that just by being there, ready to answer questions from walk-ins, hosting round tables with local business leaders, or Juneteenth events to honor the end of slavery, they can end the perception that, to paraphrase Kanye West, the GOP doesn't care about black people.
"It's hard to say we don't care when I'm here every day and I'm coming to the same events," Bradley said.
Bradley, who grew up in the neighborhood, said his job consists of "trying to stay involved with all the different community groups to bring the Republican message and figure out ways we can come together on issues and try to work together." He reaches out to leaders in the faith and business communities, as well as groups like the NAACP. On Sunday the office attended the local chapter's Freedom Fund Dinner. (Officials from the NAACP's Detroit office were unavailable for comment, though they did confirm that they purchased a corporate table at the dinner for $2,000 and an ad for $1,250.)
https://instagram.com/p/2PNvApBSaq/
Barr also meets with local officials, attends meetings held by the local business associations, and, on a more casual level, shops and attends festivals in the neighborhood. "I'm known as the Republican girl," she said. At times, she added, when she's wearing her "Detroit Republican" shirt and people would vouch for her. "Someone would say 'Oh no, she cool. She Republican, but she cool,'" she said.
The office works to get out the vote, train and recruit volunteers and build up the number of black Republicans, but doesn't promote or suggest specific policies. It's part of a larger effort under RNC Chairman Reince Priebus to diversify the part, spurred by the its failure to draw in minorities in 2012. "The chairman has made black engagement a priority," Tara Wall, the RNC's senior strategist for media and engagement said over the phone.
Just before the Detroit office opened, Priebus visited Detroit, met with black business owners and community leaders, and laid out his plan for a "block-by-block" community engagement plan. "You have to be in the community for a long period of time in order to understand and know who you want to turn out to vote," he said.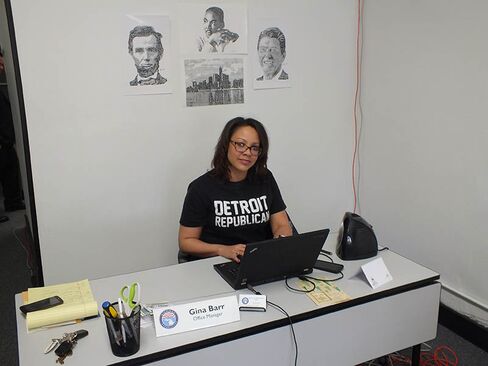 The Detroit office staff emphasized the importance it places on just being present, and operating the only political party office in the city at the moment. "It's kind of funny, because after the election a lot of people here thought we were just going to close up shop" Barr said. "So around February, people were saying 'You're actually still here?'"
The Michigan Democratic Party does not have an office in Detroit at the moment, but said it will soon. "Our chairman and several staffers live in Detroit, we have a full-time organizer dedicated to Detroit, and we have daily events and meetings in the city," Joshua Pugh, the state party's communication director, said in an e-mail. During the 2014 election the party had four offices in the city and invested $1 million in African American outreach. The party has, unsurprisingly, been critical of the office since the beginning. In a December 2013 op-ed in the Huffington Post, the state party's chair called the office "the latest example of failed Republican outreach efforts over the least decade."
Reverend Charles Williams II, a pastor at King Solomon Baptist Church and the Michigan president of the National Action Network, has also been a critic of the office since, literally, day one—his organization protested the speech Paul gave at the Detroit Economic Club following the opening of the office, which he called a "dog and pony show."
During an interview, he said that the Republican party's claim that it wanted to engage African Americans contradicted a pattern of Republican leaders in the capital ignoring the concerns of black residents on issues like the Detroit bankruptcy, right-to-work legislation, and emergency manager legislation.
"We have, over and over and over, tried to engage the governor and tried to engage the Republican party here in Michigan—with a sympathetic ear first, and then we demonstrated," Williams said. "And we got absolutely no changes to what they wanted to do."
The most prominent example of failed engagement between the governor and Detroit activists was the passage of the state's emergency manager laws. In 2011, Governor Rick Snyder signed Public Act 4, a law that allowed him to assign emergency managers to cities in dire financial straits. Emergency managers have the power to end union contracts and fire elected officials. Williams argued the law was "a challenge to our voting rights and it disenfranchised voters in urban communities."
The National Action Network led a march to Snyder's house to oppose the law, but the loudest message was sent at the ballot box, where Michigan voters defeated the law during a referendum in the 2012 election. A month later, during the lame duck session, the legislature passed a slightly different version of the law that Snyder signed. This time it was tied to a finance bill, ending any chance of it being repealed again.
"We knew that it was more of a window dressing opportunity for the Republican party, versus an opportunity to deeply engage," Williams said. "I think that a real conversation with Republicans would have something to do with them actually listening to our voices and responding to our voices within their policy."
It's hard to say how successful the GOP's engagement effort has been. Ronna Romney McDaniel, the chairwoman of the Michigan Republican Party (and Mitt Romney's niece) said during an interview at the office that Republican Governor Rick Snyder's percentage of the vote in Detroit went up between 2010 and 2014. It did—from 5.33 percent to 6.82 percentage points. The staff also has a lot of anecdotal evidence about people who, to borrow from their buzzwords, they were able to build relationships with by having a dialogue.
At the office's Black History Month event at the St. Regis hotel, half of the 200 attendees were "probably" Democrats or Independents, Barr said. And one man in particular had been on the fence. "But just being there, talking to people and listening, it made him—he said 'You know, I want to get more involved with the Republican party,'" Barr said.
But the group has made some progress with its neighbors. "It's funny, because I'm a Democrat. I vote Democrat, but I have quite a few Republican views," Don Studvent, the owner and chef of the nearby 1917 American Bistro said during a phone interview. "I got along so well with those folks in the Republican office. They were just every day people."
Studvent disagrees with the way the Republican party handled the Detroit bankruptcy, its stances on social issues and health care, Snyder's right-to-work law, and the way the party has treated President Obama ("I don't like it, I don't like it at all," he said). He didn't vote for Governor Snyder in 2014 and he didn't vote for Snyder's proposal, which failed at the ballot on Wednesday, to raise the Michigan sales tax to pay for roads and other expenses. Still, Barr and Bradley did change his opinion about the party.
"I'm so used to–on the media you see Rush Limbaugh acting like an idiot and a few other radical Republicans and [the Detroit office staff] were just not like that at all," Studvent said. "I mean they were very, very reasonable and accommodating."
But did they convince him to vote differently on any issues?
"Um," Studvent said, pausing for a few seconds. "Not so much. No, not so much."
Before it's here, it's on the Bloomberg Terminal.
LEARN MORE