Trey Gowdy Just Wants PACs to Stop Raising Money Off His Benghazi Investigation
The campaign to "support" the congressman isn't really what he asked for.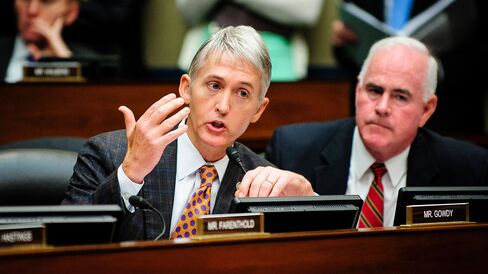 If there's any way for Representative Trey Gowdy to stop people from raising money in his name, he has not found it. In 2014, when pressed on a National Republican Congressional Committee blog post asking people (with money, presumably) to support his Select Committee on Benghazi, Gowdy pleaded for good taste.
"I cannot and will not raise money on Benghazi," Gowdy said. "I also advise my colleagues to follow suit, and I think I did so in a pretty unambiguous way."
Earlier this year, when the South Carolina congressman was scheduled to speak at a Republican fundraiser in Virginia, a controversy broke out over its theme: Beyond Benghazi. He pulled out. "He has not raised money using Benghazi," explained spokesman Jamal Ware, "and will not speak about Benghazi at fundraising events."
Yet the unwanted praise keeps coming at his way–from people, coincidentally, who like raising money. On Friday, the Stop Hillary PAC alerted donors to the successful delivery of 469,954 signatures on petitions that supported Gowdy. The proof was in photos of an unwieldy cardboard box, right outside the Select Committee office. "Stop Hillary PAC conducted three petition drives and accumulated signatures of other Americans who support your pursuit of the truth and justice," wrote the PAC's chairman, Ted Harvey, in an accompanying letter.
There was no photo of Gowdy receiving the petitions. According to his office, which did not choose to provide a quote on the matter, the petitions were dropped off at the front desk. That was it. The congressman was still not endorsing any campaign to "support" him. He hardly needs one. In 2014, no Democrat even filed to run against Gowdy, and he defeated a token Libertarian Party opponent by 70 points.
And yet: What if he could have won by 71 points? After the photo of the drop-off was sent out, the Stop Hillary PAC sent out an email from the address "Support Trey Gowdy," asking for more.
Friend, now we must both double-down the pressure on Hillary to testify AND show renewed support for Congressman Trey Gowdy.

We've got to reach the 500,000 signature mark before the Congressional Special Select Committee on Benghazi reassembles. We must provide the last bit of leverage and force Hillary Clinton to testify both times.

We need just 30,900 more signatures!

Click here to sign your Stand With Trey Gowdy petition and double-down with a donation of $25 or what you can afford.
Asked to respond to Gowdy's own criticism of the fundraising campaigns that use his name, the PAC sent over a fresh-yet-familar statement from Harvey. "Stop Hillary PAC is extremely appreciative of the work being done by Chairman Gowdy and the Select Committee," he said. "Stop Hillary PAC believes Congressman Gowdy's work to discover the truth is an important matter in and of itself, and we and these 450,000 Americans support his effort to do so despite the endless barrage of public attacks from the Clinton machine and its allies."
Gowdy, of course, is in the nigh-unassailable position of chairing a committee with subpoena power. Just Friday, his committee released an update on its work, and demanded more information from her servers. "Absent access to the server that housed the former Secretary's private emails, the Committee has no way to verify the assertions: (1) the former Secretary has produced the full universe of emails related to Benghazi and Libya; and (2) the server has been wiped clean and is currently void of any data that may reflect any email sent or received during her tenure as Secretary of State, including during the relevant time frame," said Gowdy.
The inquest was going fine, apart from the way Democrats kept branding it as a partisan smear campaign.
Before it's here, it's on the Bloomberg Terminal.
LEARN MORE