Hillary Clinton Pushes Criminal-Justice Proposals in Baltimore Aftermath
The Democratic frontrunner makes the first policy speech of her presidential campaign.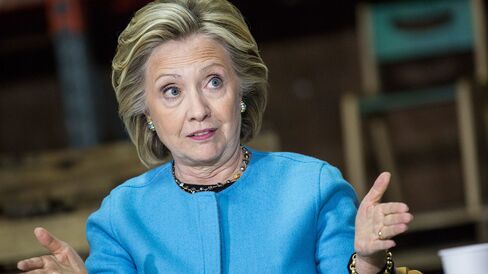 Hillary Clinton offered her vision for sweeping changes to the criminal-justice system on Wednesday in the first policy speech of her presidential campaign, which came just as the country grapples with the fallout from the death of a young black man who had sustained injuries in police custody.
"Yet again the family of a young black man is grieving," Clinton said, referring to the death last week of 25-year-old Freddie Gray in Baltimore and the anger that has spilled out onto the city's streets in the days since. "Yet again a community is reeling, its fault lines laid bare and its bonds of trust and respect frayed."
Channeling flareups of the past year, she added: "From Ferguson to Staten Island to Baltimore, the patterns have become unmistakable and undeniable."
Clinton's comments came in a speech to Columbia University's Dinkins Forum on urban issues, scheduled months ago and made more salient by the recent tensions in Baltimore. Coming as she faces continued scrutiny over the Clinton Foundation's relationships with donors and with the release of some of her State Department-era e-mails on the horizon, it was a reminder of Clinton's strengths as a communicator of public policy.
Clinton spoke forcefully about how "we have allowed our criminal justice system to get out of balance" and offered proposals for how to rebalance it, starting with making sure that every police department has body cameras for its officers to wear.
That alone would "improve transparency and accountability" since "for every tragedy caught on tape, there surely have remained many more that remained invisible," she said. "This is a commonsense step we should take."
Clinton said she supports President Barack Obama's proposal for a pilot program to provide matching funds for police departments to buy cameras but wants to "go even further and make this the norm everywhere." She did not say how she would fund the project.
Clinton also said she wants to see new approaches to punishment and prison. "It's time to change our approach," she said. "It's time to end the era of mass incarceration."
One way to make a substantial dent, she said, is by revamping the mental health system. "Please, please let us put mental health back on the top of our national agenda," she said. "Our prisons and our jails are now our mental health institutions."
Clinton said she was "somewhat surprised" to get as many questions as she did about mental health and drug treatment while campaigning in Iowa and New Hampshire earlier this month, and that it only reinforced her desire to take action.
But she acknowledged that despite the immediacy of civilian-police clashes and concerns about mental health programs, change will be difficult. "I know in a time when we're afflicted by short-termism we're not looking over the horizon for the investments we need to make in our fellow citizens, in our children," she said. "So I'm well-aware that progress will not be easy."
Still, calling herself a "congenital optimist," Clinton said the emerging bipartisan consensus around some criminal justice reforms is a good starting point but that the bigger issues of economic inequality are just as important.
"Let's protect the rights of all our people. Let's take on the broader inequities in our society," she said. "We can't separate the unrest we see on our streets from the cycles of poverty and despair that hollow out those neighborhoods."
Before it's here, it's on the Bloomberg Terminal.
LEARN MORE