Bloomberg Politics National Poll: Democrats and Independents Don't Want a Hillary Coronation
Exclusive: The poll also shows the vast majority of Americans say they won't be more or less inclined to vote for Clinton because she represents the idea of America electing its first female president.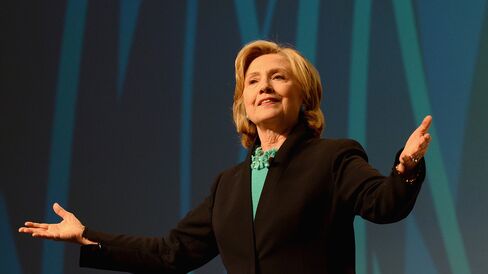 If Hillary Clinton is to become her party's 2016 presidential nominee, independents and even Democrats overwhelmingly want to see her earn the title, according to a Bloomberg Politics national poll that also shows increasing headwinds for her candidacy.
As Clinton prepared to formally announce her candidacy on Sunday, nearly three-quarters of Democrats and independents in the survey said it would be a good thing for the Democratic Party if she were to face a "serious" challenger for the nomination. Democrats and independents hold the same view, with 72 percent of both groups saying her party would be best served by a robust primary.
That presents a potential opening for other Democrats considering bids, including former Maryland Governor Martin O'Malley and possibly Vice President Joe Biden.
Facing a serious challenge "would prepare her for debates and things like that against the Republican nominee," said poll respondent Marc Witte, 66, a Democrat and clinical counselor from Poland, Ohio. Yet Witte, who supports Clinton, isn't quite sure he wants Clinton to face an overly combative challenger. "That could be a bad thing," he said.
The poll, taken April 6-8, also indicates that Clinton will confront continued skepticism about whether she has been truthful in saying that she's turned over all e-mails relevant to her time as secretary of state. Fifty-three percent of Americans say they think she purposely withheld or deleted some relevant e-mails from a private account and home server she used while in office. Just 29 percent of respondents said they thought she was being truthful.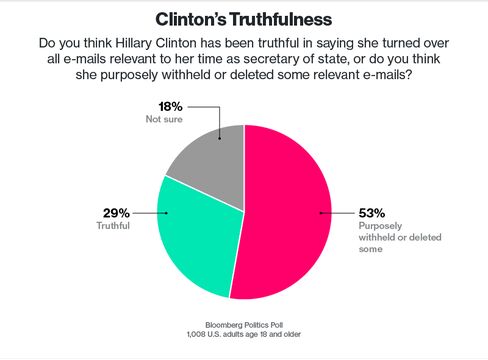 Even 26 percent of Democrats believe she has purposefully withheld e-mails or deleted them. That number jumps to 60 percent for independents and 81 percent for Republicans.
Clinton's office said March 10 she gave 30,490 work-related e-mails to the State Department, which is reviewing them for public release. An additional 32,830 e-mails, which Clinton said involved personal matters such as wedding planning or yoga routines, were deleted.
"She's not a naive person," said poll respondent Leake Little, 54, a Democrat who works as a services consultant from San Francisco. "She knows the law and has been in government and knows records retention issues."
Little said the e-mail controversy is the top issue concerning him about Clinton's candidacy, in part because it's the most recent. "It raises a huge character issue for me. It goes to whether I can literally trust her," said Little, a services consultant from San Francisco. "Her actions just don't add up."
The e-mail controversy may be one of the factors depressing Clinton's overall standing. Just 48 percent view her favorably, down four points since December and marking the first time her standing has fallen below 50 percent in Bloomberg polls dating to September 2009. Her high was 70 percent in December, 2012.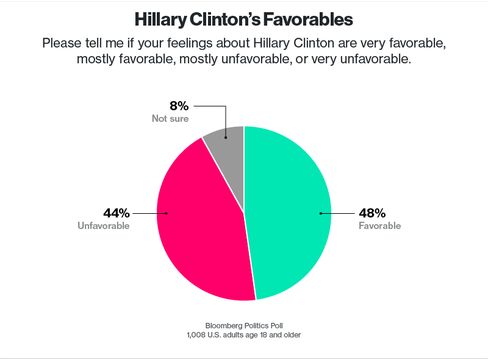 More than a quarter of those who view her favorably also say she hasn't been truthful about her e-mails.
And the percentage of Democrats who say they will definitely vote for her if she is the Democratic nominee has dropped a full 10 points, to 42 percent from 52 percent in a Bloomberg poll in June, 2013. Just 18 percent of poll respondents say they definitely will vote for her for president, compared to 23 percent two years ago.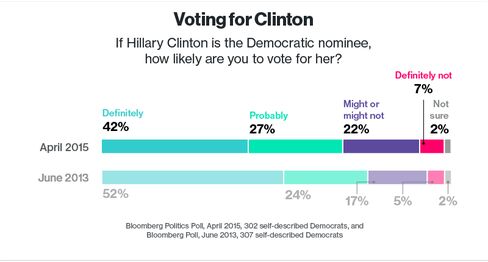 One thing is clear: The historic possibility of a woman becoming president isn't a major influence on attitudes. The vast majority of poll respondents–83 percent–say they wouldn't be more or less inclined to vote for Clinton because she would be the first female president.
"Clinton's strong performance in 2008 seems to have addressed any question of whether a woman could be a capable president. It's a non-issue now," said J. Ann Selzer, president of West Des Moines-based Selzer & Co., which conducted the poll. "At the end of the nomination fight, it was clear she had paved the way for other women with her '18 million cracks' in the glass ceiling. It turns out she may have paved the way for herself."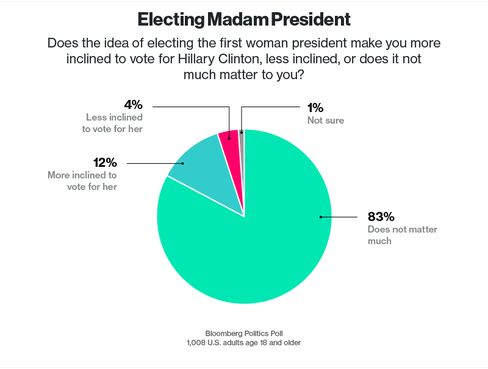 Women and liberals are more likely than others to say they'd be more inclined to vote for Clinton because of her gender. Seventeen percent of women say the idea of electing the first female president makes them more inclined to vote for Clinton, more than double the percentage of men who say that. Among those who consider themselves liberals, a quarter said Clinton's gender makes them more likely to back her.
"I just think it is time," said Jennifer LaDuca, 43, a full-time human resources management student and part-time thrift shop worker from Ahwahnee, Calif. "I would vote for almost any woman candidate over a male, as long as they weren't too out of line with my political thinking."
LaDuca, who considers herself a Democrat, said she's leaning toward supporting Clinton if she runs. She said her grandmother, who passed away in 2011 at the age of 98, voted for Clinton in the 2008 primary. "I would have loved for her to see Hillary Clinton get elected in her lifetime," she said.
As is typical for Clinton, more women view her favorably than men, 54 percent to 42 percent. Still, her standing with women has dropped 9 points from two years ago.
Her ratings have suffered among independent women, with 44 percent viewing her favorably and 48 percent unfavorably. That's a profound drop since June 2013, when that group viewed her favorably by almost a 2-1 ratio, 60 percent to 33 percent. Clinton's standing among Democrats remains strong at 82 percent, although that number has dropped six points since June 2013.
Like her husband, former President Bill Clinton, Hillary Clinton posts stronger numbers among younger Americans, who may not as well remember the controversies of the Clinton White House. Among those 34 or younger, 52 percent view her positively, compared to 46 percent of those 55 and older. Four in 10 independents view her favorably.
Among Democrats, 42 percent said they would definitely vote for her in a general election, down 10 points since June 2013. For Democratic women, the number isn't much higher, 46 percent. That's down 8 points since June 2013.
Bill Clinton's standing in the poll has dropped only slightly, with 60 percent viewing him favorably compared to 64 percent in a September 2012 Bloomberg poll. That's well above his wife's number. Properly harnessed–and kept on message–he could prove to be a significant asset on the campaign trail.
The poll, which included interviews with 1,008 adults, has a margin of error of plus or minus 3.1 percentage points on the full sample. Read the full poll questions and methodology here.
Before it's here, it's on the Bloomberg Terminal.
LEARN MORE