Republican Senator Says Letter Shouldn't Have Been Addressed to Iran's Leaders
But Ron Johnson of Wisconsin maintains that any nuclear deal should still go before Congress for approval.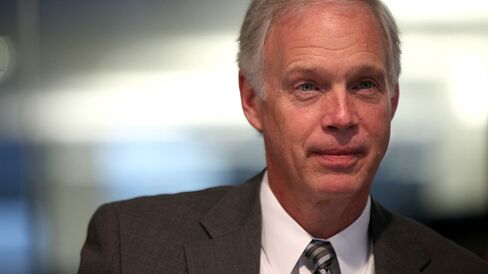 The letter 47 Republicans sent earlier this week warning against a nuclear deal President Barack Obama is negotiating with Iran probably shouldn't have been addressed to the regime's leaders, said Senator Ron Johnson, who signed the letter.
The Wisconsin Republican's comments in a breakfast with Bloomberg reporters and editors Friday morning signify how some of the senators who signed the letter are responding to a firestorm of criticism from Democrats, foreign negotiating partners such as Germany, and even some members of their own party.
"I suppose the only regret is who it's addressed to," Johnson said. "But the content of the letter, the fact that it was an open letter, none whatsoever," he said in response to a question about whether Republicans regret their actions.
"This is such an important deal, it's a deal that rises to the level of a treaty that really should be evaluated and judged by the American people through their representatives," Johnson said. "That treaty should come to Congress for an up-or-down vote."
The letter initiated by freshman Republican Senator Tom Cotton of Arkansas told leaders of the Islamic Republic that any agreement they struck with Obama to curb its nuclear program may be reversed by his successor or changed by U.S. lawmakers. Republicans say the administration is trying to circumvent them and a number of lawmakers want a vote on the potential accord.
Secretary of State John Kerry told senators earlier this week in testimony before the Senate Foreign Relations Committee that the letter was stunning, irresponsible, and "flat wrong."
Before it's here, it's on the Bloomberg Terminal.
LEARN MORE