AEI's World Forum: So Secretive We Couldn't Even Get a Snow Update
At the Georgia resort, 2016 Republican hopefuls can meet the people who may bankroll them or shape their ideas away from the scrutiny of the press.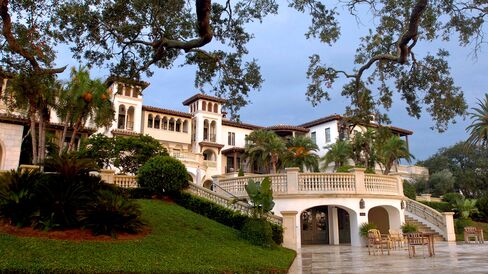 The snowstorm raging along the East Coast and in the nation's capital Thursday forced event cancellations at the White House and the Capitol, even a Ready for Hillary fundraiser. For a select and right-leaning group of hundreds of politicians, intellectuals and donors who can still get there, Georgia's Sea Island resort was the place to be–and not just because the weekend forecast calls for mild temperatures and sun.
From Thursday night through Sunday morning, Sea Island is home to the 2015 American Enterprise Institute World Forum. The think tank's annual event, which is closed to press coverage, is shaping up this year as a magnet for Republican presidential hopefuls looking to mingle with some of the forces who may be bankrolling and influencing the ideas behind their campaigns (or the campaigns of their competitors), and be featured in on-stage "conversations" with moderators.

New Jersey Governor Chris Christie, who closed state offices and urged residents to stay off the roads Thursday, was scheduled to kick off the opening session at 6:15 p.m., according to an agenda obtained by Bloomberg Politics. Former Texas Governor Rick Perry was to appear onstage later in the evening.
On Friday, former Florida Governor Jeb Bush, Texas Senator Ted Cruz and former Pennsylvania Senator Rick Santorum were to sit for similar chats, while Wisconsin Governor Scott Walker, Louisiana Governor Bobby Jindal and Indiana Governor Mike Pence were to appear Saturday. Senator Lindsey Graham of South Carolina, another presidential hopeful, also was included on a list of forum speakers.
Senators Marco Rubio of Florida and Rand Paul of Kentucky were not among the scheduled speakers or panel participants, but former Vice President Dick Cheney and media mogul Rupert Murdoch were. So were were many congressional Republicans in leadership.
A handful of Democratic officeholders and advisers also were on the list of attendees, including Senator Cory Booker of New Jersey; Jason Furman, chairman of President Barack Obama's Council of Economic Advisers; Obama's former National Economic Council director, Gene Sperling; and former Treasury Secretary and NEC director Larry Summers.
Panels cover domestic issues (Obamacare, education, poverty, crime, philanthropy, energy, growth, and, yes, the 2016 campaign), but also lots of national security and foreign policy (Russia, China, ISIS, cyber and US leadership). And there's a strong showing expected from within the intelligence community, including former National Security Agency directors Keith Alexander and Michael Hayden (who also was past CIA director).
The event's secrecy is one of its top selling points. I emailed Hayden on Thursday to ask if he'd been snowed in or was still attending and, if so, whether I could check in with him. His response: "It's all off the record. Sorry."
AEI's Judy Mayka Stecker declined to say whether the weather was altering the schedule or the speakers list. "To maintain intellectual freedom and free discourse, the event is private and off-the record," she said, and "therefore we do not comment further on the content or attendees."
Before it's here, it's on the Bloomberg Terminal.
LEARN MORE