Rand Paul's Israel Problem Summed Up in One Telling Gif
The Kentucky Senator's unenthusiastic clapping for Netanyahu would seem to confirm the right's skepticism of his support for Israel.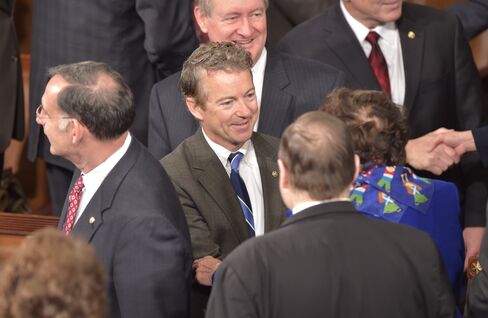 Kentucky Senator Rand Paul is learning the hard way that sometimes it's not enough to just show up.
At least 50 House and Senate Democrats boycotted Prime Minister Benjamin Netanyahu's address to Congress, but several right-leaning news sites and pundits were more focused on Paul's lukewarm reaction to Bibi. The problem for Paul was that he looked very much like a man who didn't want to be at the speech, and the larger perception is that Paul was trying to split the difference between wanting to reach a deal with Iran (the opposite goal of the speech) and not wanting to seem like he doesn't support Israel.
That dynamic was summed up neatly in gif form:
https://twitter.com/FreeBeacon/status/572806480677761024/photo/1
"Rand's conservatarian straddle in one GIF: 'What if I clap, but only half-heartedly?'" tweeted Allahpundit, a writer at the conservative website HotAir, referring to Paul's need to balance conservatism and libertarianism. Red State's Dan McLaughlin called it the "Citizen Kane clap." The National Review posted a short reaction story on the gif and the right's negative social media response. The post argued that he was "less-than-enthused" due to "his outspoken views against foreign aid and a muscular foreign policy."
Paul's foreign aid stance came up last fall when he was asked if he'd ever proposed cutting aid to Israel. Paul said he hadn't, but in 2011 he proposed a bill that would end all foreign aid, including Israel, according to Politifact. His father, former congressman Ron Paul, also opposed giving foreign aid. Three months later, Paul faced criticism for missing a Netanyahu speech (he said he stayed on the Senate floor to prevent Democrats from advancing the Patriot Act unanimously).
Through all of this, Paul's response has been that Israel is a close friend and ally that has his support. After the speech, the senator released the following statement:
"Israel is and has always been America's friend and ally. I was pleased to hear Prime Minister Netanyahu's speech to Congress today, and join him in calling for peace and standing together for out mutual interests. It is important to work together to prevent a nuclear Iran, and the spread of Radical Islam."
But despite his vocal support for Israel, Paul may not be able to convince the right that he's more enthusiastic about Israel than that gif implies. As Daniel Larison at The American Conservative wrote in January, "I know that Paul thinks he can thread the needle of placating 'pro-Israel' hawks without antagonizing the core supporters he expects to have in 2016, but I suspect that he is wrong about this. He will never be able to satisfy the 'pro-Israel' hawks, since they decided long ago that he was not one of them."
For more, read this QuickTake: A Dimming Dream for Israelis and Palestinians
Before it's here, it's on the Bloomberg Terminal.
LEARN MORE