State: No Indication that Clinton Used E-mail for Classified Purposes
A former aide says Clinton usually communicated face to face or by phone.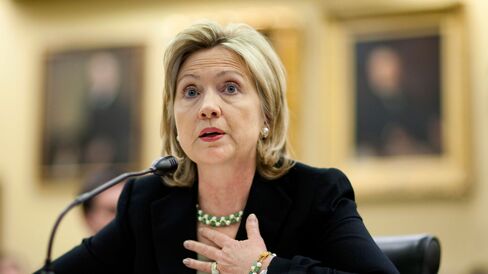 Hillary Clinton's exclusive use of a personal e-mail address as secretary of state has sparked alarm even among many of her supporters, but current and former State Department officials are defending the practice as they explain how she used e-mail during her four years in the job.
"We have no indication that Secretary Clinton used her personal e-mail account for anything but unclassified purposes," State Department deputy spokesperson Marie Harf said Tuesday. "While Secretary Clinton did not have a classified e-mail system, she did have multiple other ways of communicating in a classified manner (assistants printing documents for her, secure phone calls, secure video conferences)."
That explanation doesn't satisfy every Democrat. "It is highly unusual," Robert Gibbs, the White House press secretary during much of Clinton's time in the Obama administration, said in an interview Tuesday on NBC's Today.
One former State Department official who worked for Clinton told Bloomberg Politics he did not find the practice unusual, given how little Clinton actually used e-mail. Most of the time, the former official said, his interactions with Clinton and across the department were either face to face or over phone.
When he did get an e-mail from Clinton, the former official said, it was generally a directive and his response usually came on paper or in person the next time they saw each other. When Clinton was traveling, the former official said, he generally conveyed messages to Clinton through a core group of four senior aides–Cheryl Mills, Jake Sullivan, Huma Abedin, and Philippe Reines.
E-mail, the former official added, also wasn't the best way to get Clinton's attention, since she couldn't bring her BlackBerry into diplomatic meetings at home or abroad, or into the White House situation room, because of security reasons. Even when sitting at a computer, an official e-mail address would have been a clunky way for Clinton to communicate, since many aides would have had to been copied and responses would have piled up quickly, filling her inbox.
(Obama's first Environmental Protection Agency administrator, Lisa Jackson, used an EPA e-mail address with the alias of "Richard Windsor" to have a more manageable inbox than her primary account allowed.)
Despite the reliance on other means, the official said he would write to Clinton's personal address on weekends when he had specific questions that needed immediate answers.
Several other current and former Clinton aides declined to comment or did not respond to requests asking them to detail how they saw her using e-mail, including whether she used her account to reach out to foreign leaders.
While e-mail messages sent to or from official government accounts were automatically saved and logged, it is unclear whether e-mails sent from Clinton's personal account outside of the government system were recorded.
Clinton spokesman Nick Merrill said that the former secretary of state followed the lead of recent predecessors in using "her own e-mail account when engaging with any department officials." Clinton sent messages to government accounts "with every expectation they would be retained." He did not say whether any efforts were made to store her communications with foreign leaders and others outside the U.S. government.
In the Clinton team's view, "both the letter and spirit of the rules permitted State Department officials to use non-government email, as long as appropriate records were preserved," Merrill said.
Clinton's successor, Secretary of State John Kerry, is the first to "rely primarily" on a State Department e-mail address, a department official said.
A second State Department official pointed to former Secretary Colin Powell's recollection in his memoir of using a personal e-mail address to communicate with aides and foreign leaders during his time leading the department, from 2001 to 2005. Correct the Record, a pro-Clinton group run by Democratic super-PAC American Bridge, also cited Powell's use of a personal e-mail address to conduct official business.
Before it's here, it's on the Bloomberg Terminal.
LEARN MORE