Hillary Clinton Used Personal E-mail for State Department Work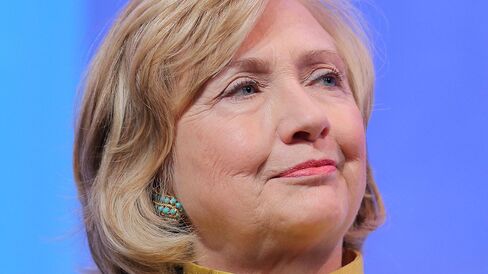 Hillary Clinton used a personal e-mail account while serving as U.S. Secretary of State to conduct official business instead of a government account, the State Department said.
The practice was discovered after the State Department last year began reaching out to former secretaries of state, asking them to submit records for preservation. After Clinton complied, the department found about 300 e-mails that they turned over to a congressional committee investigating the terrorist attack in Benghazi, Libya, in 2012. The attack killed four Americans, including U.S. Ambassador Christopher Stevens.
The disclosure of Clinton's use of a personal e-mail account comes about a week after the Clinton Foundation revealed a $500,000 gift from the government of Algeria in 2010 that violated an agreement she had with the White House regarding foreign donations during her term as Secretary of State.
Taken together, the recent episodes may stoke questions about Clinton as she prepares to announce her presidential campaign as early as next month. Her activities at the State Department and her work with the foundation already are providing fodder for Republican critics, particularly in relation to the Benghazi probe, who say Clinton hasn't been fully transparent about her activities at the State Department.
Nothing Improper
Clinton spokesman Nick Merrill said there was nothing improper about Clinton's use of a personal e-mail account and that all official records were preserved.
"Like Secretaries of State before her, she used her own e-mail account when engaging with any Department officials," Merrill said in an e-mail. "For government business, she e-mailed them on their Department accounts, with every expectation they would be retained."
State Department Deputy Press Secretary Marie Harf said in an e-mailed statement that Clinton provided the department the e-mails in response to a request. "After the State Department reviewed those e-mails, last month the State Department produced about 300 e-mails responsive to recent requests from the Select Committee," Harf said.
Harf said Secretary of State John Kerry is the first in his position to rely primarily on a state.gov e-mail account.
The New York Times first reported Clinton's use of a private e-mail account Monday night.
'Transparency Matters'
Merrill said Clinton immediately complied when the State Department asked for help ensuring all official e-mails were retained.
"Both the letter and spirit of the rules permitted State Department officials to use non-government e-mail, as long as appropriate records were preserved," he said.
Republicans ripped Clinton's e-mail practice.
"Transparency matters," said Republican Jeb Bush, the former Florida governor and likely 2016 Republican presidential candidate, said on Twitter.
Bush voluntarily released more than 250,000 e-mails from his time as governor in December.
Ari Fleischer, who was White House press secretary under George W. Bush, called Clinton's practice unusual.
'Very Odd'
"Everybody I know had to have a government account," Fleischer said on MSNBC's "Morning Joe" program. "The fact she didn't have one at all strikes me as very odd and the question is did Secretary Clinton request to do it that way. These things don't happen by accident."
However, previous secretaries of state and their deputies also have maintained private e-mail accounts for family and other personal correspondence, said a former department official. They generally use the phone and in-person meetings rather than e-mail for intra-departmental conversations because they can reach anyone, anywhere, anytime through the State Department's Operations Center, the official said.
It's unclear how Clinton's team determined which e-mails to submit to the State Department for preservation.
All federal agencies are required to manage and archive government records under the Federal Records Act. Those records include e-mails when their content, including attachments, deals with public business, policies, operations among other functions, according to the National Archives.
Federal Records
It was unclear whether Clinton's use of a personal account violated any federal rules, said John Wonderlich, policy director of the Sunlight Foundation, a Washington group that promotes government transparency.
"The most likely explanation of her intent seems clear -- she created a system designed to avoid accountability, potentially in violation of the law," Wonderlich wrote in a blogpost. "We've clearly got a long, long way to go to ensure federal records are managed properly."
Harf said there was no indication that Clinton used the personal account for classified purposes.
"While Secretary Clinton did not have a classified e-mail system, she did have multiple other ways of communicating in a classified manner," Harf said, such as having assistants print documents for her and using secure phone calls and secure video conferences.
The State Department is in the process of updating its records policies in accordance with 2013 guidance from the National Archives and Records Administration.
"These steps include regularly archiving all of Secretary Kerry's emails to ensure that we are capturing all federal records," Harf said. "For some historical context, Secretary Kerry is the first Secretary of State to rely primarily on a state.gov e-mail account."
Before it's here, it's on the Bloomberg Terminal.
LEARN MORE