Petraeus Admits Sharing Classified Documents With Biographer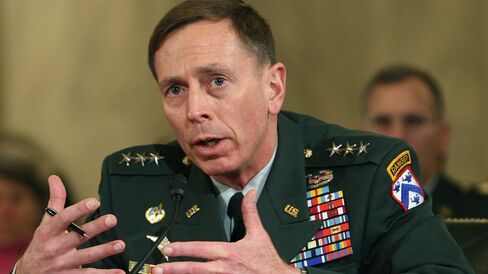 Retired Army General and former CIA Director David Petraeus admitted that he provided notebooks containing classified information to his mistress, ending an investigation that derailed his public career with a plea deal that will keep him out of jail.
Petraeus, 62, agreed to plead guilty to the unauthorized possession of classified information, according to court papers, avoiding a trial. According to the terms of his plea deal, Petraeus will serve two years of probation on the misdemeanor charge, which carries a maximum sentence of one year in jail.
Petraeus resigned from his Central Intelligence Agency post in November 2012 after his relationship with his biographer, Paula Broadwell, became public. He has acknowledged the extramarital affair, which began about two months after he took over as CIA director in 2011 and ended four months before he resigned. He previously had strongly denied providing Broadwell with classified information.
Petraeus didn't respond to an e-mailed request for comment. His attorney, Robert Barnett, declined to comment.
The plea deal still is subject to approval by a judge, though that's usually a formality. Former federal prosecutors and defense lawyers said the deal seemed to be a good one for both sides. Petraeus avoids prison and the government won't be seen dragging a war hero through a messy trial.
Petraeus's Intent
"It seems kind of fair," said Tom Connolly, a former federal prosecutor and defense lawyer. "It clearly doesn't appear from the statement of facts that he was trying to harm national security, and that is why they didn't whack him with anything more serious."
In court papers, signed by Petraeus, federal prosecutors wrote that the former general provided Broadwell, who isn't identified by name, with notebooks chronicling his yearlong tenure as the top commander of U.S. and allied forces in Afghanistan.
The notebooks, known as the "black books," contained "classified information regarding the identities of covert officers, war strategy, intelligence capabilities and mechanism," prosecutors wrote in court papers that were signed by Petraeus on Feb. 22. They also included his handwritten notes of conversations with President Barack Obama, prosecutors said.
Notebooks Provided
In August 2011, Petraeus provided the notebooks to Broadwell, even though he was aware they contained highly classified information, to help her with her biography of him, "All In: The Education of General David Petraeus."
Prosecutors said no classified information from the notebooks appeared in Broadwell's book.
In an interview recorded by Broadwell before she obtained the books, Petraeus acknowledged his notes were sensitive.
"I mean they are highly classified, some of them," he told her, according to the court papers. "They don't have it on it, but I mean there's code word stuff in there."
Petraeus shouldn't have retained the notebooks, which he stored in a rucksack in his house and an unlocked desk drawer, after leaving the military. He should have turned them over to a Department of Defense historian, prosecutors wrote.
Petraeus also admitted he lied to FBI agents about not having disclosed information to anyone. On Oct. 12, 2012, he told FBI agents that he hadn't provided classified information to Broadwell and had not "facilitated the provision of classified information to his biographer," prosecutors wrote.
"The acts taken by defendant David Howell Petraeus were in all respects knowing and deliberate, and were not committed by mistake, accident, or other innocent reason," prosecutors wrote.
After leaving the CIA, Petraeus took a job with private equity firm KKR & Co. The firm said in a statement that Petraeus "has made valuable contributions to KKR, and his work has benefited our investors. We look forward to working with him as he continues to add value as Chairman of the KKR Global Institute."
(Earlier versions of this story were corrected to reflect that the charge is a misdemeanor.)
Before it's here, it's on the Bloomberg Terminal.
LEARN MORE