Bill O'Reilly Caught on Tape Contradicting His Book
A tape made of a 1977 phone conversation with O'Reilly tells a different story than the one the host tells in one of his books.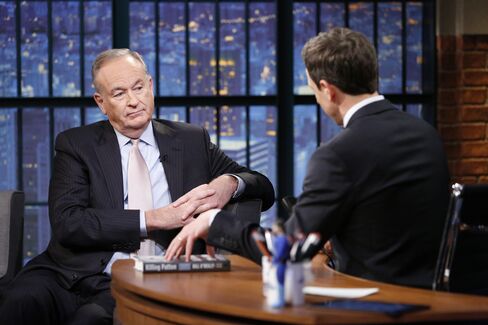 Sometimes the truth presents itself in a way that is difficult to refute.
For all the debate over whether Fox News host Bill O'Reilly has been, like NBC News host Brian Williams, guilty of embellishing stories about his experiences as a reporter, it seemed as though the cable news ratings sensation had been able to infuse enough doubt against those who claimed to have caught him in a lie so as to quell each successive story. But on Sunday, CNN broadcast a recording that clearly refuted claims O'Reilly made in his 2012 book, Killing Kennedy, and again on air, that he had stood on the doorstep of the home where Lee Harvey Oswald friend George de Mohrenschildt committed suicide in 1977, and had actually heard the fatal shot being fired.
The audio tape of the phone call between O'Reilly and Florida investigator Gaeton Fonzi shows that O'Reilly was not in Florida on the day of de Mohrenschildt's suicide, and only learned of it when Fonzi called him. During the call, O'Reilly asks Fonzi what time the suicide took place, and whether a gun had been used. He also adds that he is planning on traveling to Florida the following day. Listen to the full audio here.
http://www.cnn.com/videos/tv/2015/03/01/new-exaggeration-allegations-against-bill-oreilly.cnn
The existence of the phone conversation, which was recorded on the morning of de Mohrenschildt's death and would appear to prove that O'Reilly did not learn about the suicide as he had portrayed it, offers the most damning evidence yet for those attempting to show that the Fox News host has exaggerated his own reporting.
Unlike the previous cases, in which recollections of former colleagues have been contrasted with one another in an attempt to prove that O'Reilly embellished combat situations in Argentina during the Falklands War, or whether he and his crew were in serious danger while covering the Los Angeles riots in 1991, the tape provided to CNN is a slam dunk case that directly contradicts the following passage from Killing Kennedy:
As the reporter knocked on the door of the de Mohrenschildt's daughter's home, he heard the gunshot blast that marked the suicide of the Russian, assuring that his relationship with Lee Harvey Oswald would never be fully understood.

By the way, that reporter's name is Bill O'Reilly.
O'Reilly has explained away claims of having witnessed the murder of nuns in El Salvador and also the killing of citizens in Ireland at the hands of IRA "terrorists" by saying he had simply meant he had seen photos of said atrocities. But there is no such wiggle room in this new case. O'Reilly did not learn of de Mohrenschlidt's suicide by hearing the gun shot that killed him as he stood on the Palm Beach doorstep of the home where that event transpired.
Before it's here, it's on the Bloomberg Terminal.
LEARN MORE