Scott Walker: 'My View Has Changed' on Amnesty
The potential 2016 hopeful has officially reversed course on immigration.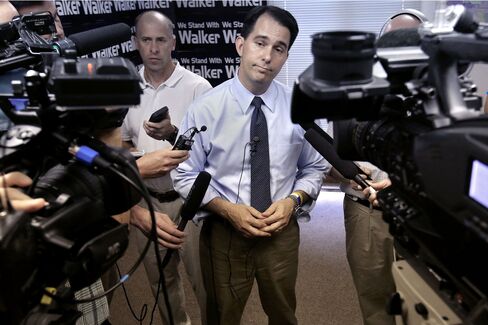 Wisconsin Governor Scott Walker admitted Sunday to changing his views on the vexing issue of immigration.
Appearing on Fox News Sunday, the potential presidential candidate was presented with a 2013 clip in which he told a Wisconsin newspaper that he could envision undocumented workers who pay penalties being offered a pathway to citizenship. Walker said Sunday that he has since changed his mind on what many conservatives deem to be "amnesty."
"I don't believe in amnesty, and part of the reason why I've made that a firm position is I look at the way this president has mishandled that issue," Walker said. "I think the better approach is to enforce the laws and to give employers, job creator s the tools like e-verify and other things to make sure the law is being upheld going forward."
Pressed further about the disparity between those two stances, Walker gave his clearest indication yet that he will be a candidate in the Republican primary.
"My view has changed," Walker said. "I'm flat-out saying it. Candidates can say that."
Interviewed at the 2015 Conservative Political Action Conference by Fox News' Sean Hannity, Walker further detailed his new emphasis on immigration.
"You should secure the border, not just for immigration reasons, but why would you put a fence around three sides of your home and leave the back door open? That's what we have when we guard our ports, we guard our airports, we don't guard our borders," Walker said.
Before it's here, it's on the Bloomberg Terminal.
LEARN MORE