Donald Trump's Political Flirtations Last an Average of 5 Months
The real estate developer and reality TV show host doesn't tend to stick with his political campaign hopes for long.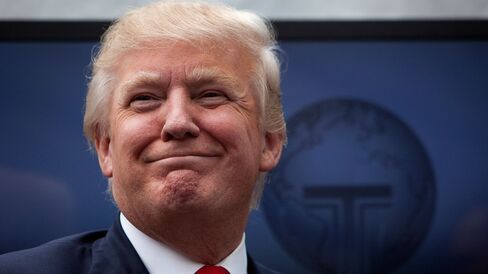 This time he means it, maybe.
Donald Trump claims to be, once again, giving serious consideration to the possibility that he could soon be attempting to seek higher office.
On Monday, Trump met with Republican National Committee chairman Reince Priebus in New York, where the two men discussed the prospect of the real estate developer and reality television host jumping into the 2016 presidential race, the Washington Post reports.
"Everybody feels I'm doing this just to have fun or because it's good for the brand," Trump told the Post. "Well, it's not fun. I'm not doing this for enjoyment. I'm doing this because the country is in serious trouble."
As with his 2011 consideration of a presidential run, a narrative has emerged that The Apprentice host has yet to renew his contract because he was seriously weighing whether declare himself a candidate.
https://twitter.com/mlcalderone/status/570687021561323521
"NBC has said they want to renew," Trump told the Post this week. "But I can't do it right now because I may be doing something else."
Unlike in 2011, some polling organizations haven't been including Trump in their presidential surveys, so there's no real way of telling how a 2016 run might go over with voters.
https://twitter.com/ppppolls/status/570702021252288513
Looking back on the three previous times that Trump trumpeted his potential candidacy, a pattern has emerged that reveals why organizations like PPP are following a "once bitten, twice shy" approach. On average, Trump's flirtations with seeking elected office have lasted a total of five months. Here's a quick look back.
2014: Gubernatorial Flirtation
In an interview with the New York Daily News published on Jan. 10, 2014, Trump floated a few conditions for hopping in the race to become New York's governor.
"If the party is unified, I told them I would run," Trump told the News about the state's GOP establishment. "I think it's something that can be won."
Three months later, on March 14, 2014, Trump pulled the plug on that electoral fantasy.
https://twitter.com/realDonaldTrump/status/444583888137252864
2012: Presidential Flirtation, Sequel
On October 5, 2010, Trump announced on Fox News that he was "serious" about looking into becoming a Republican candidate for president.
"I'm totally being serious because I can't stand what's happening to the country. First time I am being serious about it. I've been asked for years to do it. And I had no interest. This is the first time I am -- at least I'm considering it. That doesn't say I'm going to do it ... but I am seriously considering it."
Six months later, on March 16, 2011, Trump put out a statement saying he would not run.
"I maintain the strong conviction that if I were to run, I would be able to win the primary and ultimately, the general election," Trump wrote at the time. "I have spent the past several months unofficially campaigning and recognize that running for public office cannot be done half heartedly."
1999: Presidential Flirtation Premier
On Oct. 7, 1999, Trump announced that he was forming an exploratory committee to help him decide whether he should attempt to seek the Reform Party's presidential nomination in the 2000 election.
That exploration ended six months later, on Feb. 14, 2000, when Trump appeared on the Today show to explain his decision.
http://thedailyshow.cc.com/videos/j2g5ae/headlines---men-behaving-bradley
"The Reform Party is a total mess!" Trump declared. "You have Buchanan, a right winger, and you have Fulani, a Communist, and they have merged.... I don't know what you have!"
Before it's here, it's on the Bloomberg Terminal.
LEARN MORE