Scott Walker Didn't Graduate, and Only Howard Dean Seems to Care
The notion that Walker's education is going to be a problem isn't catching fire.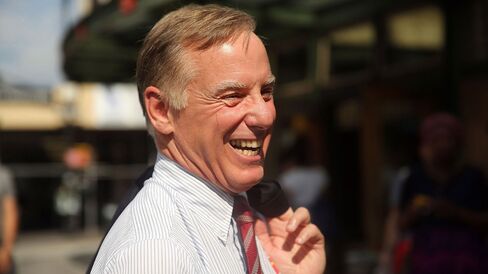 Wisconsin Governor Scott Walker didn't graduate from college, and Howard Dean says it would be a problem if the Republican ran for president.
He's one of the few.
"The issue is, how well educated is this guy?" said Dean, a former Vermont governor who ran for the Democratic nomination in 2004, on MSNBC's Morning Joe on Feb. 12, amid a surge in polls for Walker. "I worry about people being president of the United States not knowing much about the world and not knowing much about science."
It's never been a secret that Walker made it to his senior year at Marquette University, then took a job at an American Red Cross chapter and left school without graduating. Democrats in Wisconsin alleged misdeeds, but they remain unproven and the conversation has recently focused on whether the U.S. would be willing to elect the first president without a bachelor's degree since Harry Truman.
The response in the media has pretty much been, if he gets that far, why not?
In the New York Times' data-driven section The Upshot last month, Alan Flippen pointed out that, early in the republic, presidents often hadn't finished college, "including two of the four presidents on Mount Rushmore." (That would be Lincoln and Washington.)
Vox.com's Libby Nelson, on Feb. 14, said in a headline that "Scott Walker's lack of a college diploma doesn't matter," arguing that he'll be given ample opportunity to show intellectual rigor in a presidential election and that he probably got most of the benefits of college by completing a majority of required credits.
Bloomberg View's own Al Hunt said Feb. 1 that some strategists have worried privately the issue could cause problems for Walker "in battleground upscale suburban areas" during the general election. But, Hunt pointed out, business leaders Steve Jobs, Bill Gates, and Larry Ellison never finished college, to say nothing of Senator Rand Paul (who still finished medical school), Washington, and Lincoln.
The Washington Post was a bit more circumspect. Philip Bump said last month that the data weren't on Walker's side. Not having a college degree, Bump said, is "normal for an American, but not a president."
Even left-leaning outlets weighed in with support. On Feb. 12, MSNBC's Steve Benen wrote that Walker's lack of degree is a losing campaign issue since "no one wants to come across as an elitist."
At Salon on Monday, Jim Newell wrote that if "Scott Walker has been able to achieve the career goals that usually require a college degree without having gotten that college degree, then more power to him" and warned that anyone repeating Dean's criticism would look "like a snooty liberal snob jerk."
At the other end of the political spectrum last week, National Review writer Charles C. W. Cooke said there was "nothing shameful" in Walker not finishing. "It is difficult, too, not to divine a touch of caste-system snobbery in the initial inquiry," he wrote. On Monday, Rush Limbaugh railed against Washington elitists "who look down their noses at us."
Way back in December, experts in the International Business Times echoed this assessment: "We worry more these days about our president being elitist than being quote-unquote 'like us,'" Arthur Sanders, a political science professor at Drake University in Des Moines, Iowa, told the outlet. "We want them to be both ordinary people and special, so if [Walker] tells his story the right way, I think he can probably use it to his advantage."
What does the man himself say?
He'd like to go back, he has said, but it's a juggling act.
"I kept thinking I'd go back, got married, had one kid, had another kid, next thing you know...you're worrying more about paying for your kids' college education than you are for your own," he said in 2012.
Before it's here, it's on the Bloomberg Terminal.
LEARN MORE