Whatever Happened to Ted Cruz, Maestro of the Senate?
The conservative hero who led Congress into a 2013 government shutdown is falling flat.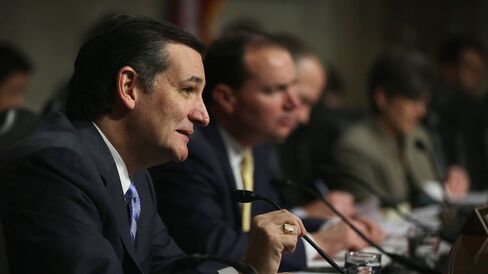 Ted Cruz is in the penalty box.
The conservative hero who led Congress into a 2013 government shutdown over Obamacare is falling flat with his latest demonstration over President Barack Obama's immigration orders.
Just as the field of Republican presidential aspirants grows, the Texas senator is trying to burnish his conservative credentials. In his most high-profile push, Cruz is trying to goad his Senate colleagues into blocking the confirmation of Loretta Lynch as attorney general and other nominees to force the president to reverse his immigration executive orders.
Here's the problem: no one seems to be paying much attention.
Even Senate Majority Whip John Cornyn, Cruz's homestate colleague who plans to oppose Lynch's nomination, says her vote should not be held up. Republicans are instead waging the battle over immigration with a bill to fund the Department of Homeland Security.
Cruz's cold streak stretches back to at least December, when he failed to rally his colleagues, some of whom were forced to divert planes back to Washington, around an unusual Saturday procedural vote to oppose Obama on immigration that held up a $1.1 trillion spending bill.
Even some of the most vocal critics of Obama's orders covering about five million immigrants, like Utah Senator Orrin Hatch, rejected Cruz's effort and did not try to hide it. "You should have an end goal in sight if you're going to do these types of things and I don't see an end goal other than irritating a lot of people," Hatch said.
Afterwards, Cruz apologized for the inconveniences caused to his colleagues, according to sources familiar with a Republican policy luncheon on Dec. 16.
"They're trying to marginalize him for sure,'' said Brad Blakeman, a senior staff member in President George W. Bush's administration. "There has to be some kind of penalty for not being a team player."
For Cruz, being on the outs with his party leaders isn't necessarily a bad thing. His unpopularity in Washington just seems to boost his standing with the Tea Party base.
Earlier this week, House Speaker John Boehner made the unusual move of jabbing Cruz in a news conference, calling on the outspoken freshman, along with Alabama Senator Jeff Sessions, to rally the support needed to block the president's immigration efforts in the Senate yet making no mention of Senate Majority Leader Mitch McConnell, the man who controls the chamber. Why not attach Cruz's name to a gambit that has zero chance of success—at least while Obama's in office?
Before it's here, it's on the Bloomberg Terminal.
LEARN MORE