Obama Trolls National Prayer Breakfast, Gets Expected Results
With no campaigns left to run, the president is saying what he means, and not worrying about who it angers.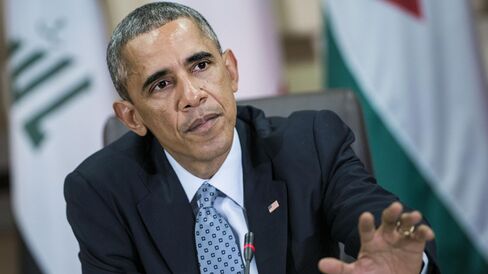 The gaffe of the week was not Kentucky Senator Rand Paul's rumination about the freedom not to be vaccinated. Reporters and conservatives now agree that Paul was ahead, but that President Barack Obama parachuted to the end of the finish line with his speech at the National Prayer Breakfast. The president made "an unfortunate attempt at a wrongheaded moral comparison," according to the president of the Southern Baptist Ethics and Religious Liberty Commission. "Why on earth would you go to the National Prayer Breakfast with thousands of Christians from across the spectrum and insult them?" asked Rush Limbaugh.
What had Obama said? He'd tip-toed into a condemnation of Islamist terror organizations by saying that other great religions had been similarly twisted and abused.
So how do we, as people of faith, reconcile these realities -- the profound good, the strength, the tenacity, the compassion and love that can flow from all of our faiths, operating alongside those who seek to hijack religious for their own murderous ends?

Humanity has been grappling with these questions throughout human history. And lest we get on our high horse and think this is unique to some other place, remember that during the Crusades and the Inquisition, people committed terrible deeds in the name of Christ. In our home country, slavery and Jim Crow all too often was justified in the name of Christ. Michelle and I returned from India -- an incredible, beautiful country, full of magnificent diversity -- but a place where, in past years, religious faiths of all types have, on occasion, been targeted by other peoples of faith, simply due to their heritage and their beliefs -- acts of intolerance that would have shocked Gandhiji, the person who helped to liberate that nation.
Obama has spoken at the National Prayer Breakfast every year of his presidency. Not until 2014 did he start using the speech to talk specifically about violence from religious extremists. But in his very first speech at the event, in 2009, he'd dropped a reference to how "far too often, we have seen faith wielded as a tool to divide us from one another – as an excuse for prejudice and intolerance." He's talked about Islamic terror as an aberration that reformers within the faith can fight back against.
Some conservatives can get away with arguing that; Obama's insistence that terror groups pervert Islam, and do not grow naturally out of it, is one of his most reliably anger-inducing tics for the right. This year's prayer breakfast speech was like taking an air horn and blowing right next to the people who've been complaining about the noise from the TV.
"What's important is what's happening now," columnist Charles Krauthammer said on Fox News. "Christianity no longer goes on Crusades, and it gave up the Inquisition a while ago. The Book of Joshua is knee deep in blood; that story is over too. The story of today, of our generation, is the fact that the overwhelming volume of the violence and the barbarism that we are seeing in the world, from Nigeria, to Paris, all the way to Pakistan, and even to the Philippines, the island of Mindanao in the Philippines, is coming from one source, and that's from inside Islam."
When Republican candidates for the White House return to the trail, they too will probably start attacking Obama's speech. Former Virginia Governor Jim Gilmore, who's visited Iowa and New Hampshire as he explores a darker-than-dark horse bid, got his name in the first round of "outrage" stories by condemning Obama.
"While Christians of today are taught to live their lives as the reflection of Christ's love, the radicals of ISIS use their holy texts as a rationale for violence," said Rick Santorum in a statement. "To insinuate modern Christians—the same Christian faith that led the abolitionist movement, the Civil Rights Movement, and global charitable efforts fighting disease and poverty—cannot stand up against the scourge we see in the Middle East is wrong."
The rub: Obama clearly doesn't care. He's appeared at the National Prayer Breakfasts, yes, but he's done so after progressives turned on the event. Journalist Jeff Sharlet's stories about the organizations behind it, and the thuggish anti-gay types who see it as a hot ticket, have soured a lot of people on the left about the NPB. Obama's never relished the breakfast the way previous presidents have; even commentators sympathetic to Obama think he's phoned it in. He has no campaigns left to run, so why not phone it in? There's no political consequence for him saying what he thinks about religion.
Before it's here, it's on the Bloomberg Terminal.
LEARN MORE