Senate Republicans Again Fail to Stop Obama on Immigration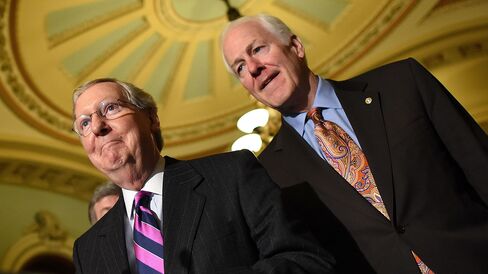 Senate Democrats for a second time blocked a Republican effort to roll back President Barack Obama's orders shielding millions of undocumented immigrants in the U.S. from deportation.
The 53-47 vote on Wednesday, with 60 required to advance the bill, was a repeat of a similar vote a day earlier. Senate Majority Leader Mitch McConnell has lined up a third vote for Thursday as leaders seek to show fellow Republicans they're making every effort against united Democratic opposition.
Republicans are seeking to use a House-passed spending bill for the U.S. Department of Homeland Security to force the president to abandon the immigration action he announced in November. The agency would face a shutdown of non-essential operations if Congress doesn't reach agreement before current funding ends Feb. 27.
Senator John Cornyn, in a floor speech, unsuccessfully urged Democrats to switch their votes and help advance the legislation.
"The president's executive action is something previously a lot of Senate Democrats have expressed discomfort with," said Cornyn of Texas. He identified West Virginia's Joe Manchin and Missouri's Claire McCaskill by name and called on these Democrats to "stand up to their own leadership."
Manchin told reporters, "I'm willing to debate immigration or anything else separately, but not under these circumstances that we have going on around the world and all the attempts we have to infiltrate our country" by terrorists.
Not 'Bullied'
"We will not be bullied, we will not be told we have to negotiate," said Charles Schumer of New York, the third-ranking Democrat. "The right wing of the Republican Party is risking a Department of Homeland Security shutdown to get their way on immigration."
Republicans control the Senate 54-46, and with 60 votes required to advance legislation, they need support from at least six Democrats.
The legislation, H.R. 240, would provide $39.7 billion to keep Homeland Security operating through September.
Obama announced Nov. 20 that he would temporarily halt deportations for about 5 million undocumented immigrants in the U.S. The Homeland Security bill would bar funds to carry out that initiative and would reverse a 2012 directive shielding undocumented immigrants brought here as children.
The president reiterated his threat to veto such legislation today after meeting with the children of undocumented immigrants. He said he's confident Democrats would have the votes to sustain a veto.
'Already Working'
"I would call on members of Congress to think about all the talent that is already in this country, that is already working in many cases, is already making contributions," Obama said in the Oval Office.
The young adults Obama met with participated in the Deferred Action for Childhood Arrivals program, which allows them to stay in the the U.S. legally.
Republicans' decision to hold a second vote helps leaders demonstrate to Tea Party-aligned lawmakers that they are exhausting every option to attack Obama's immigration orders, Cornyn said. The House, led by Speaker John Boehner, passed the bill on Jan. 14.
"The speaker needs to get a majority of votes in the House, so I think part of coming to a solution is going to be showing that we're doing our best to fight for the House position," Cornyn said.
Making Changes
Republicans will have to make changes to the measure if Democrats refuse to budge, Cornyn said.
"Either the House would have to pass a different piece of legislation, which I don't believe they're prepared to do at this time, or something would have to be generated here in the Senate," he said.
Earlier on Tuesday, Boehner of Ohio declined to say what the next step would be, suggesting the issue may remain in the Senate.
One potential change Republicans could make to gain support, Cornyn said, is to drop their attack on the 2012 order protecting undocumented immigrants brought to the U.S. as children.
Representative John Carter of Texas, the Republican chairman of the House Appropriations subcommittee on homeland security, said he'd support abandoning all of the immigration-related amendments except the one rolling back Obama's orders issued in November.
Children's Protections
Much of the "noise" from Democrats is over ending protections for children, Carter said.
Schumer rejected the idea of passing a Homeland Security funding bill that still would block Obama's November immigration orders.
"That's just changing the ransom," Schumer said.
In similar funding battles over the past five years, Congress hasn't passed major legislation unless it is on the brink of a deadline. That means there may be several more unsuccessful attempts at passing a bill before a final deal is reached before the end of this month.
Before it's here, it's on the Bloomberg Terminal.
LEARN MORE