Jeb Bush: America Should Achieve More Than Twice the GDP Growth Rate It Had Under George W. Bush
Bush family economics.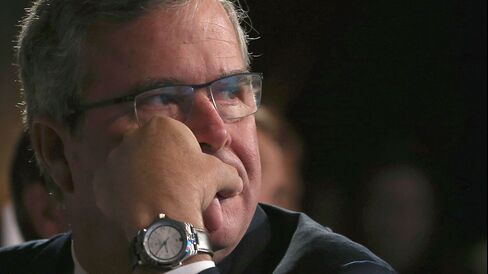 That wasn't quite how he phrased it, but in his Detroit speech the former governor of Florida said that America needed faster economic growth, less encumbered by Washington regulators.
"If a law or a rule doesn't contribute to growth, why do it?" asked Bush. "If a law subtracts from growth, why are we discussing it? And for what it's worth, I don't think the U.S. should settle for anything less than 4 percent growth a year–which is about twice our current average."
It's also about twice the average growth achieved in the presidencies of Bush's father and brother. George H.W. Bush's single term, which an ill-timed recession played a big part in ending, saw average GDP growth of 2.1 percent. George W. Bush's two terms, which began with a terrorist attack and ended in the subprime crisis, saw average growth of 1.6 percent.
Barack Obama's terms, which started in the muck of that crisis, are unlikely to see an average GDP growth of 4 percent. The youngest Bush's math today started the clock a year ago; over the last six months, average GDP growth has actually surpassed 4 percent, averaging 4.8 percent.
That was belatedly good news for Tim Pawlenty, who gave a speech similar to this four years ago in Chicago. He'd pledged to bring America to a 5 percent annualized GDP growth rate. That rate seems to be on the way, though he's enjoying the benefits from the Financial Services Roundtable, and not the White House.
Before it's here, it's on the Bloomberg Terminal.
LEARN MORE