Poll: Iowa Republicans Side with Obamas After Huckabee's Beyoncé Attack
Sixty-one percent of likely GOP caucus-goers say the former Arkansas governor's comments were out of line.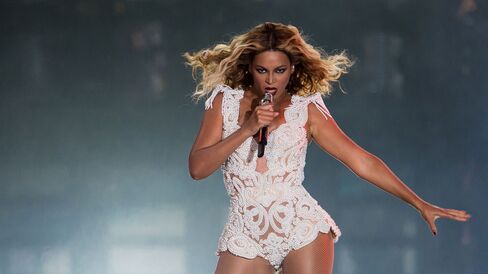 Iowans may or may not like Beyoncé, but their opinion on one issue involving the singer is clear in a new Bloomberg Politics/Des Moines Register Iowa Poll: Mike Huckabee crossed a line when he suggested that President Barack Obama and first lady Michelle Obama were bad parents for allowing their daughters to listen to her music.
Still, 40 percent of likely Iowa Republican caucus-goers said they agreed with Huckabee's characterization of Beyoncé's music as "mental poison," according to the poll. Thirty-eight percent said Huckabee "went too far" with his criticism of the singer, while 22 percent said they were unsure.
Huckabee, a likely candidate for the Republican presidential nomination, included the "mental poison" assessment in his new book God, Guns, Grits, and Gravy. In an interview with People magazine published in January, Huckabee went on to knock the Obamas for allowing their daughters to listen to the singer. "I don't understand how on one hand they can be such doting parents and so careful about the intake of everything—how much broccoli they eat and where they go to school…and yet they don't see anything that might not be suitable," he told the magazine.
Sixty-one percent of likely Republican caucus-goers and 95 percent of likely Democratic caucus-goers said Huckabee, a former Arkansas governor and Fox News host, "went too far" in his critique of the Obamas, according to the poll. Just 23 percent of Republicans and 2 percent of Democrats said Huckabee was "mostly right." Sixteen percent of Republicans and 3 percent of Democrats said they were not sure.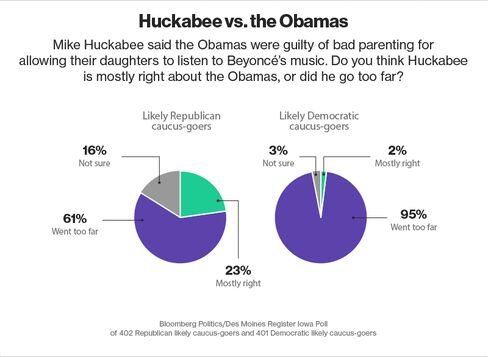 "Any particular kind of music, you can assess that," said Norman Rayburn, a 43-year-old Republican and father of two who lives in Des Moines. "I don't have any problem with him assessing Beyoncé's music, but I don't know that I'd tell a parent whether or not they should tell their kids they should listen to it."
Only those Republicans who said they were very conservative were split meaningfully on the Obamas' parenting, with 42 percent saying Huckabee was mostly right and 41 percent saying he went too far.
Lynette Little, a 52-year-old Census Bureau worker in Panora, Iowa, said Huckabee was right to take issue with the Obamas' parenting skills. "The role model part comes because they're going to be in the public eye more than most families, but it's also a practical part of parenting," said Little, who identifies herself as a Tea Party supporter. "Parents need to be involved in what their kids are exposed to so they can help them understand the true meaning and the implications are of what's being said."
Kyrie Martinie, the mother of a 2-year-old daughter, said the criticism was too harsh. "It's up to them as to what they let their children listen to," said Martinie, a 25-year-old student at the University of Northern Iowa in Cedar Falls who is likely to participate in the Democratic caucuses. "A lot of people see Beyoncé as being a positive female role model. I don't think she needs to be criticized as strongly as she was."
"I like her music, personally, though I don't know if it's entirely appropriate for younger children, but I don't see that it's as bad as Huckabee says it is," she added. "There are plenty of other artists who are worse than Beyoncé."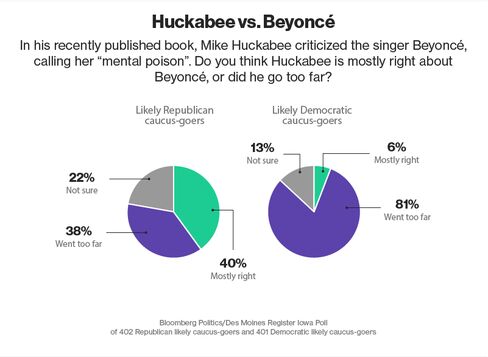 Among Democrats likely to participate in the caucuses, Beyoncé enjoys much more support. Just six percent said Huckabee was "mostly right" about the singer, while 81 percent said he went too far and 13 percent said they weren't sure.
Republican men were more likely than women to align with Huckabee, with 45 percent agreeing with his assessment of Beyonce's music. Thirty-two percent of Republican women agreed.
The poll was conducted by West Des Moines-based Selzer & Co. from Jan. 26-29 among 402 likely Republican caucus-goers and 401 likely Democratic caucus-goers. It has a margin of error of plus or minus 4.9 percentage points.
More from the Bloomberg Politics/Des Moines Register Iowa Poll
Before it's here, it's on the Bloomberg Terminal.
LEARN MORE