How the New Surgeon General Is Addressing the Anti-Vaxx Movement
Surgeon General Vivek Murthy has been gently fighting anti-vaccine fears during a cross country listening tour.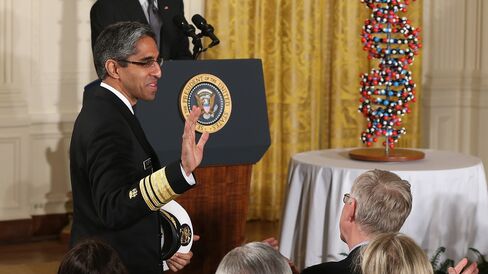 As politicians with various levels of relevant medical experience weigh in on vaccines, now would be a good time for the nation's Surgeon General to set the record straight. After 17 months without a top doctor, Congress finally confirmed Dr. Vivek Murthy to the job, but he's been noticeably absent from the national stage.
As Charles Gaba, a Michigan blogger best known for predicting Obamacare enrollments, noticed, something seemed to be missing from the Surgeon General's website amid all the news of a national measles outbreak and the commentary generated by a number of likely presidential candidates over their support of vaccination, in general.
https://twitter.com/charles_gaba/status/562713767239495681
But Murthy has been discussing vaccines, and other health concerns, through a series of sessions across the country. Starting late last month, the "Surgeon General House Call" tour (a.k.a. #SGHouseCalls) has taken Murthy throughout the South, where he has encouraged people to sign-up for Obamacare, discussed the key causes of obesity, and emphasized the importance of vaccines.
Murthy's tone has actually been more lenient towards the anti-vaxx movement than the White House's. During Tuesday's press briefing, Press Secretary Josh Earnest said the president believes parents have a "responsibility" to vaccinate their kids, though he wasn't suggesting a law mandating vaccines. "It shouldn't require a law for people to exercise common sense and do the right thing," Earnest said.
Last week in Kansas City, Missouri, Murthy acknowledged that vaccine concern comes from a good place, but "not everyone had gotten the message" that vaccines are safe and important. From KCUR:
Ultimately, every parent wants to protect their child. They don't want their child to be at risk from being hurt in any way. So I recognize that and I think it's important for all medical professionals to recognize that. But I also think we have to share what we know about the best of science and what it says about immunizations. And the truth is there was a time in this country where we saw far more vaccination-preventable illness before we had the ready availability of vaccines like the MMR vaccine, like the flu vaccine, like others, and folks who remember those times remember that those were not happy times.
Kansas City medical officials are warning residents that it's just a matter of time before the current measles outbreak makes its way to the city, according to the Kansas City Star. In 2014, Kansas City was the source of a large measles outbreak—28 cases were diagnosed in a small Micronesian community where many members weren't vaccinated.
During another stop last week in Springfield, Missouri, Murthy raised concern over the rise of preventable diseases like measles and whooping cough, but added that it's "understandable" that people who've heard rumors about a vaccine-autism link would be concerned. "But I think they best way for us to protect our young ones is to make sure that they get vaccines that have been proven to be safe and have been proven to be effective," he added.
Before it's here, it's on the Bloomberg Terminal.
LEARN MORE