Lindsey Graham: Send 10,000 U.S. Ground Troops to Fight Islamic State
The South Carolina Republican said airstrikes wouldn't stop the terrorist group.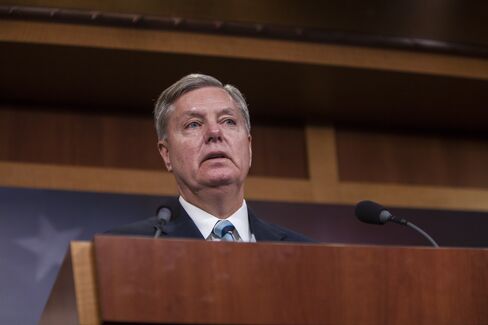 Senator Lindsey Graham wants to put 10,000 "boots on the ground" to confront the Islamic State
The South Carolina Republican, who on Thursday premiered a political action committee aimed at exploring a run for president, told Face the Nation on Sunday that the terrorist organization could launch an attack on the U.S. that would be like "Paris on steroids" and that the group won't stop executing hostages aide workers and journalists until "they're degraded and destroyed."
"An aerial campaign will not destroy them," Graham said. "You're going to need boots on the ground, not only in Iraq, but in Syria."
Host Norah O'Donnell said the Islamic State effectively controls 20,000 square miles in those two countries, and the group released a video on Friday that appears to show the execution of Japanese hostage Kenji Goto. Graham called Iraq and Syria the "best platforms to launch an attack on [the] United States" since 9/11.
Graham said he thought aerial strikes, which have been ongoing against the group, have helped push it back but that "there's got to be some regional force formed with an American component, somewhere around 10,000" in order to stop the group.
Wisconsin Governor Scott Walker, who is considering his own run for president in 2016, also said on Sunday that "ultimately, we have to be prepared to put boots on the ground," although he said that wasn't "an immediate plan."
Sending ground troops to Iraq and Syria may play well in the upcoming GOP primary. Fifty-seven percent of Republicans support the idea, according to a Pew poll released in October. Conversely, the issue could be a liability in the general election as 55 percent of respondents from both parties opposed sending in ground troops.
Before it's here, it's on the Bloomberg Terminal.
LEARN MORE