The Re-Re-Rebranding of Mitt Romney
The two-time candidate and his camp insist that the 2016 version is, at long last, the real one. But other Republicans think they already know the authentic Mitt.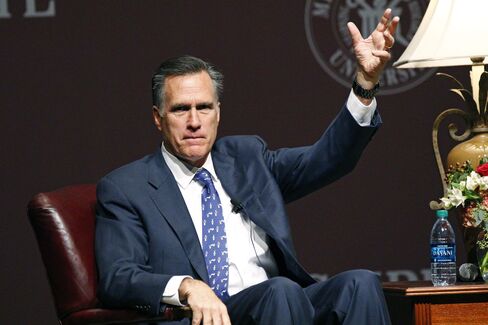 STARKVILLE, Miss.—The Romney family has a predilection for reinvention. George Romney, the former governor of Michigan, made his name remaking the gas-guzzling American Motor Co. into a producer of fuel-efficient Ramblers. His son Mitt took that lesson into politics, remodeling himself from a self-described Massachusetts "moderate" to a "severely conservative" presidential candidate. Now, as he weighs a third effort to fulfill his father's dream of winning the presidency, Romney is attempting what might be the most audacious transformation in family history.
On Wednesday night in Starkville, Miss., the former private-equity titan stood on a stage in an antebellum plantation house refurbished into a university hall and cast himself a champion of the country's most vulnerable. "We need to lift people out of poverty," he said. "Almost every week during my campaign, I met folks who had fallen into poverty." It was a striking moment for a man whose last presidential campaign was undermined by a secretly recorded video of him standing before rich campaign donors and dismissing the 47 percent of voters on government assistance. Twenty-eight months later, in the country's poorest state, he ticked off a series of policies—stronger schools, encouraging marriage, better incentives for employers—designed to help that same population. "I want to help the poor and the middle class in this country," Romney proclaimed. "The rich in America, by the way, are fine."
Though he's been on the public stage for more than a decade, Romney and his family still believe America doesn't understand Mitt—a problem they blame both on political opponents and mistakes of past campaigns. In the public imagination, he remains an out-of-touch plutocrat who delights in laying off workers and earned the endorsement of the Simpsons' Mr. Burns—an image, advisers grumble, that was created by Democrats. That narrative, cemented by the Obama campaign, infuriates Romney's family and friends, who say the man they know has little in common with his fat-cat caricature. A third presidential run, they argue, offers as a chance for redemption, a last opportunity to finally show the country the real Romney: compassionate church leader, devoted patriot, and loving father.
Unlike the political shifts of previous campaigns—from moderate to conservative and then even more conservative—this one is driven by not by polls but passion: a belief, closely shared among Mitt, his family and closest advisors, in the reality of "the real Mitt." More than a few in his party, along with many former supporters, believe this is a doomed and quixotic venture. But among the Romney cultists, it's an article of faith that this latest incarnation is the one the country has been waiting all these years to see. "It's just not his style to say, 'Look at me,'" said Tom Rath, a long-time Romney political adviser. "Some of the things that are most hurtful for those of us who do know him is the person they were talking about is not the person we know."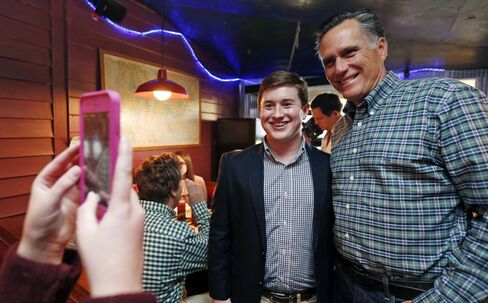 His former running mate echoes this sentiment. "I know who Mitt Romney is. I know what's in his heart," Wisconsin Representative Paul Ryan said last week on MSNBC. "This is a man who is deeply concerned about those who are less fortunate." In private, friends boast about Romney's charitable giving, saying he makes contributions quietly to avoid publicity. They joke about his penny-pinching, love of Costco's shirts, penchant for repairing gloves with duct tape, and fondness for honey and peanut butter sandwiches. (A Romney mantra recalled by friends: "Just because you can afford something doesn't mean you should buy it.")
Not surprisingly, there's a modicum of opportunism in his 2016 message. As Romney moves to assemble his team, he's telling allies that his newest campaign would be based on three pillars: Foreign policy, tackling poverty, and economic mobility. In recent speeches, he's vowed to end poverty, called for action on climate change, and pushed for raises in teacher pay. The message seems timed for the moment. With income inequality at record levels, much of the political class is pivoting to a populist message for a campaign they expect will focus on economic frustration. For Hillary Clinton, Jeb Bush, and the rest of the Republican field, that will require some creative messaging and fresh policies. For Romney, owner of multiple megamansions, it's a makeover. "I really love Mitt and I think he would have been an awesome president, but I don't want him to be like Brett Favre," said Renee Schulte, a former Iowa state representative, referring to the NFL quarterback and his famous aversion to retirement. "I'm confused about what's happening."
But the story Romney insiders tell is one of correcting mistakes, of finally getting things right. Four years ago, some of Romney's family and friends pushed to spend more time showcasing his charitable work, even if that meant delving more into his Mormon faith—a topic that had been kept fairly off-limits by a campaign that felt burnt by negative perceptions of the religion in the 2008 race. As a practicing Mormon, Romney is asked to tithe 10 percent of his income, likely a significant sum given his $250 million net worth. And as a lay leader in the church, he helped congregants navigate the most personal of problems. But while videos shown at the Republican National Convention featured testimony from some of those he'd helped, the campaign was reluctant to stray too far from economic themes.
Romney, too, felt a bit wounded by the image created during the campaign. In the emotionally fraught period after his loss, he sold his condo near Boston and moved to Utah, buying both a 5,900-square-foot mansion zoned for equestrian use in a fancy suburb of Salt Lake City and an $8.9 million ski chalet in nearby Park City. Now, living at the center of the Mormon world, Romney is surrounded by his oldest and strongest support network. The positive response to the recent Netflix documentary, Mitt, which featured the family praying, playing, and campaigning, made them optimistic that the country could still embrace Romney.
"He still cares very much about the direction of the country and feels a sense of duty and optimism that he could make a serious difference," said former Utah Governor Mike Leavitt, a close friend. "In time, one of the things he'll have to measure is whether people resonate with what he's saying."
Privately, some supporters worry. Romney, they say, worked hard to successfully rehabilitate his image after the presidential campaign. He ended the year with dignity, a sought-after surrogate in the midterm campaigns with a strong record of electoral success. Why risk that status with another loss, either in a general election or, more embarrassingly, in a primary campaign? "Mitt's a good man," former Mississippi Governor Haley Barbour said last week on Bloomberg Politics' With All Due Respect. "My old granddaddy used to say you don't learn from the second kick of a mule."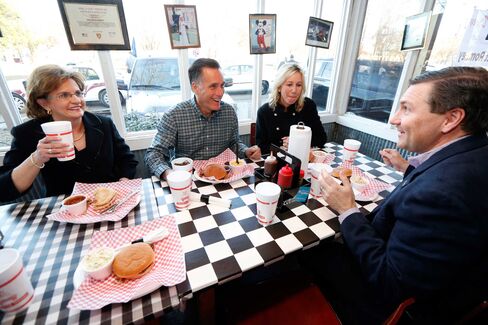 And for many Republicans, the mistakes Romney made four years ago remain fresh. Romney helped cultivate his privileged image, telling jobless Floridians that he was "also unemployed." In New Hampshire, he said he likes "being able to fire people." He told Michigan voters that his wife "drives a couple of Cadillacs" and informed Daytona 500 fans that he had "some great friends that are NASCAR team owners." And that was only the run-up to that little remark about the 47 percent. "I'm not concerned about the very poor," Romney said on CNN in February 2012. "We have a safety net there. If it needs repair, I'll fix it." On Election Day, more than 80 percent of voters surveyed in exit polls said Barack Obama "cares about people like me." Only 18 percent shared the same sentiments about Romney. It was a bitter pill for the GOP faithful, convinced that they had a vulnerable incumbent and that knocking him off would be easy.
His potential primary rivals are determined to keep that disappointment fresh in voters minds. Before his speech on Wednesday, Romney's four-car motorcade stopped at the The Little Dooey, a side of the road BBQ joint famous for serving country music stars. He ordered a pulled pork sandwich, noted that the meat was in a red sauce, not mustard-based like in South Carolina (a political pander, perhaps, to an early primary state), and made polite conversation with Dan Mullen, the Mississippi State University football coach before the television news cameras. Ann, he mentioned, had stayed in California to ride horses. "I'm just not sure that visceral connection is there with enough people," Kentucky Senator Rand Paul said this week when asked about Romney. His point: There may be a new finish on Romney, but under the hood, he's running on the same old engine.
Before it's here, it's on the Bloomberg Terminal.
LEARN MORE