Pope Francis Turning Into a Headache for Catholic Presidential Hopefuls
Jeb Bush, Marco Rubio, and Rick Santorum must walk a fine line when dealing with the leader of their church.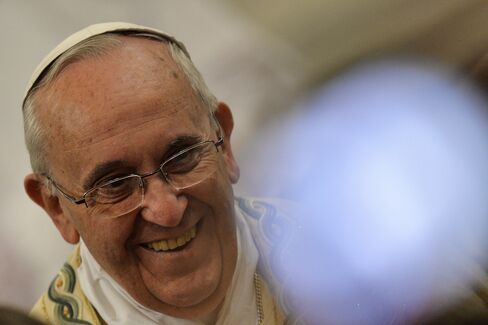 It is a new era for the Roman Catholic church, much to the dismay of three of its Republican members who are poised to run for president.
On issues ranging from climate change to lifting the U.S. embargo on Cuba and the demotion of an anti-gay American bishop, Pope Francis has shown himself to be more liberal than many of the men who will likely seek the GOP presidential nomination, including Catholics such as former Senator Rick Santorum and Senator Marco Rubio.
The rift between the Vatican and American conservatives has been building ever since Francis was named to succeed Benedict, and flared dramatically over his 2013 critique of the bedrock GOP principle of free-market capitalism.
"Inequality is the root of social ills," Francis said, adding, "as long as the problems of the poor are not radically resolved by rejecting the absolute autonomy of markets and financial speculation and by attacking the structural causes of inequality, no solution will be found for the world's problems or, for that matter, to any problems."
While Republicans like Santorum, Rubio, and former Governor Jeb Bush—who converted to Catholicism in 1995—have begun focusing on inequality in America, and insuring that the economic recovery is extended to those left behind, some declarations made by Francis have not gone over as well.
Babies
In regards to the Pope's comment made to reporters on a flight back from the Philippines that being a good Catholic does not mean one had to breed "like rabbits," Santorum found himself unable to hold his tongue.
"Well, I mean, it's sometimes very difficult to listen to the Pope and some of the things he says off the cuff, and this is one of them," Santorum told Hugh Hewitt. "And I just, I keep coming back to the Pope is the leader of the Catholic Church, and when he speaks as the leader of the Catholic Church, I'll certainly pay attention. But when he speaks in interviews, he's giving his own opinions, which I certainly will listen to, but from my perspective, that doesn't reflect the idea that people shouldn't be fruitful and multiply, and that people should be open to life as something that is a core value of the faith and of the Catholic Church. And I don't know what the Pope was referring to there. Maybe he's speaking to people in the third world, but the problem certainly in most of the Catholic world is not procreation. I mean, in Europe in particular, you have birth rates that are only over, just a little over one for every two people. So this isn't a global problem, and I don't know what the Pope was referring to."
Reopening Cuba
That same unease was shared by Rubio after Francis made headlines for brokering a deal to soften the decades old stalemate between Cuba and the United States.
"The Holy Father wishes to express his warm congratulations for the historic decision taken by the Governments of the United States of America and Cuba to establish diplomatic relation, with the aim of overcoming, in the interest of the citizens of both countries, the difficulties which have marked their history," the Vatican said in a statement.
Rubio, the son of Cuban immigrants who grew up in Florida, took the unusual step of calling out the head of his church.
"My understanding is that the influence that His Holiness had was on the release of Mr. [Alan] Gross, which I've not criticized. As I said, I'm happy that he's with the Cuban people [sic]. I would also ask His Holiness to take up the cause of freedom and democracy, which is critical for a free people—for a people to truly be free," Rubio told reporters in December.
Climate change
Those clashes with Francis may prove relatively minor compared to what may ensue when the pope visits the United States next fall, smack in the middle of the campaign to decide who will win the Republican nomination, to promote his forthcoming encyclical that declares man-made global warming a problem that Catholics have a duty to try and address.
"I don't know if it [human activity] is the only cause, but mostly, in great part, it is man who has slapped nature in the face," Francis said earlier this month. "We have in a sense taken over nature."
While 62 percent of "moderate Republicans" polled in a Yale University survey said they supported taking action to curb greenhouse gas emissions, such as enacting strict limits on coal-fired power plants, many in the party bristle at the notion that human beings have anything to do with rising global temperatures, much less at the thought that government should do anything to try and do anything about them.
"Well, this pope sure has got his priorities right," conservative talk-show host Rush Limbaugh said on his syndicated program recently. "Climate change, the biggest thing facing Catholicism and Christianity. You believe this?"
Bush declared himself a "skeptic" on man-made climate change last year, and has since railed against government regulations that prevented oil drilling on public lands. Rubio, too, disagrees with Francis on global warming.
"I do not believe that human activity is causing these dramatic changes to our climate the way these scientists are portraying it," Rubio said in a 2014 interview with ABC News. "And I do not believe that the laws that they propose we pass will do anything about it. Except it will destroy our economy."
Santorum's response, meanwhile, to what he sees as rising temperatures "over the past 10 or 20 years" is to "do nothing."
https://www.youtube.com/watch?v=QhsRFy40nXc
While Francis enjoys sky-high global approval ratings among Catholics, his numbers, as revealed in a 2014 CBS News poll, are more modest in the United States. But, if anything, the pope has shown himself to be fearless when it comes to shaking things up and generating headlines, and that could make for an interesting autumn on the campaign trail.
Before it's here, it's on the Bloomberg Terminal.
LEARN MORE