Obama Says Hagel Never Forgot Roots as Soldier in Pentagon Job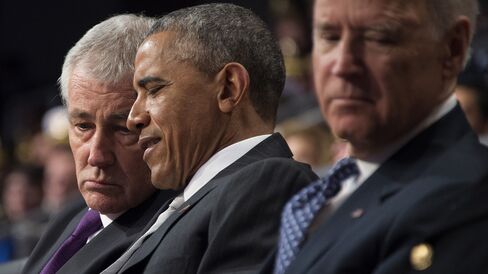 President Barack Obama lauded Defense Secretary Chuck Hagel as a leader who connected with troops like no other secretary before him because he never forgot his experiences as a soldier.
The president bid farewell to his third defense secretary, praising Hagel as a patriot who served the country from the Army to the Senate to the Pentagon. He credited Hagel with helping to end two wars and transform the military so it could respond quickly to threats from Ebola to the Islamic State.
"From sergeant to secretary, you've always been guided by one interest—what you believe is best for America," Obama said during a ceremony at Joint Base Fort Myer-Henderson Hall just outside Washington.
Though they came from different political parties Obama said the two men share a world view that military force should be used sparingly. Hagel's voice cracked as he talked about the opportunities that his life in the military had afforded him.
A Vietnam veteran and former Republican senator, Hagel announced his resignation on Nov. 24 after less than 21 months on the job.
Hagel had a frosty relationship with some of the president's senior staff, who had marginalized the defense secretary in the decision-making process. His predecessors, Republican Bob Gates and Democrat Leon Panetta, both wrote in recent memoirs that they were disturbed by the degree of White House intrusion into military operations.
Obama nominated Ashton Carter to replace Hagel. Carter spent more than two years as the Defense Department's No. 2 civilian leader under Panetta and then Hagel. Before that, he served under Gates as the military's top weapons buyer. His confirmation hearing before the Senate Armed Services is scheduled for Feb. 4.
Before it's here, it's on the Bloomberg Terminal.
LEARN MORE