Exclusive: Steve King Says Scott Walker and Ted Cruz Won the Iowa Freedom Summit
The congressman assesses the potential candidates.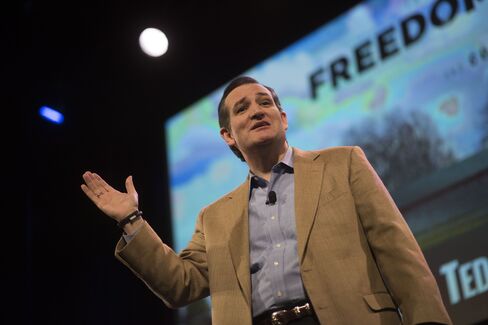 After he cast his final vote of the day, Iowa Representative Steve King was stopped by Oklahoma Represenative Frank Lucas. The Oklahoman, a key Agriculture committee member, was heading to Iowa, and he wanted King to know.
"I'm just talking," said Lucas. "I'm not there to launch a presidential campaign."
King laughed. "Oh, I can start a rumor," he said. "No problem!"
His Iowa Freedom Summit over, King had brushed off immigration reformers and settled into his role as a Republican taste-maker. He had intended to watch the speakers, and watch how the audience reacted.
"Part of this is a measure of the interpretations of talking to a good number of people that are highly invested in this," he said. "We sat around Saturday night and chewed the fat."
And who won? "Basically, the press reports I read were mostly accurate in their analysis," said King. "I think [Texas Senator] Ted Cruz had the highest bar to reach, and I think he cleared that bar. I don't know how much greater than expectations it was, but he at least met and then exceeded expectations. I'm confident that he did for the people who had not heard him speak before."
Who else performed above expectations? "Probably the person who helped himself the most would be Scott Walker," said King. "The bar wasn't as high, and he gave a good speech. He connected with the audience in a good, constructive way. Chris Christie helped himself. He was humorous, he was personal, and it was a good move for him to be there. And Carly Fiorina -- you probably noticed this, but when she came out the response was warm but not overwhelming. She converted that warmth into standing ovations multiple times."
King insisted that every speaker at the daylong event did himself or herself good. Asked if that applied to former Alaska Governor Sarah Palin, whose scattershot and lengthy speech managed to alienate even some of her former defenders, King was diplomatic.
"Of all the things that could be said, why would people focus on a component that could be described as negative," he said. "When you talk to her personally, there's that Sarah Palin lilt in her voice that brings out her personality and her attitude. I think that overshadows anything that anybody has for criticism."
Before the weekend began, Palin hadn't talked to King at all about her presidential ambitions. It still wasn't clear that she had any; she told reporters for ABC News and the Washington Post that she was "interested" in a run, but didn't follow through with the work that would have followed. For example: She didn't take up King on an offer to join his Sunday pheasant hunt.
"I almost convinced her!" said King.
Before it's here, it's on the Bloomberg Terminal.
LEARN MORE