From the Chili Kitchen to the Hotel Lobby, the Launch of Palin 2016
The forgotten Alaskan seeks to be remembered.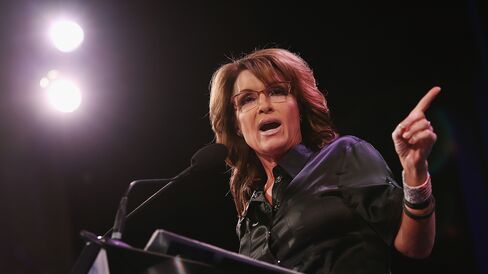 DES MOINES, Iowa—Around 200 reporters have been credentialed for Saturday's Iowa Freedom Summit. At least a dozen of them ate downtown Friday at Centro, a few blocks from the Marriott that's become a local answer to The Tabard for traveling journalists and politicians. Around 11 p.m. local time, as a few reporters returned from dinner, they ran smack into Newt and Callista Gingrich, Sarah Palin, Representative. Steve King, and Citizens United President David Bossie.
https://twitter.com/politicoroger/status/558854532495470592
Instagram told the tale, as reporters uploaded quick snaps of the politicians who'd be addressing Saturday's event. From the Washington Post's Dan Balz: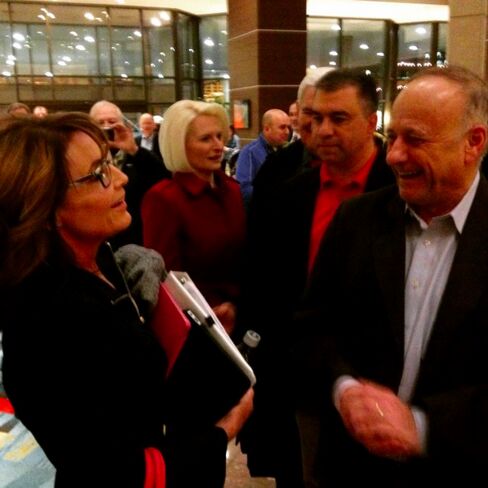 By the Huffington Post's Igor Bobic: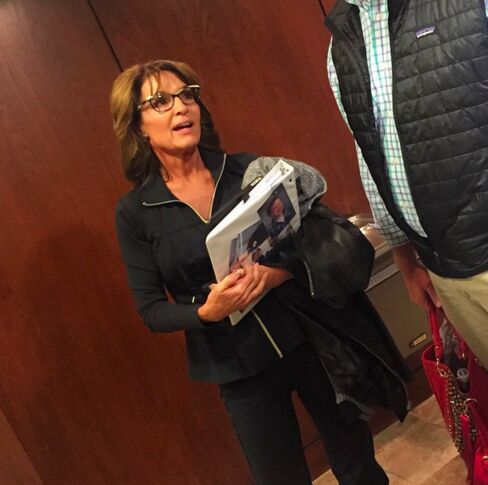 And by the Wall Street Journal's Reid Epstein: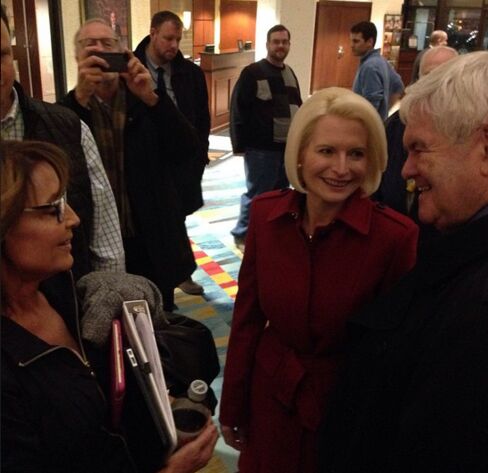 Only Robert Costa, another reporter at the Post, decided to use the occasion to ask a question and print the answer.
https://twitter.com/costareports/status/558855337273327618
Many hours and much sweat equity can be spent, by reporters, to get in the right place to lob questions at politicians. Costa had made it to the right place by kismet. The question was whether Palin's public mulling was truly "breaking." On social media it was being treated as such, but earlier in the day, two time zones away, Palin had told ABC News that she might be interested in running. Actually, in a video interview conducted while Palin served chili and reporter Neal Karlinsky stood behind her moving arm, Palin said ... let's go to the transcript.
KARLINSKY: You got thoughts on 2016? We've got some old, familiar names. Another Bush. Another Romney.

PALIN: We can't wait for new energy. Good competition. And that competition in the GOP primary–because this had better be a competition, and not a coronation–will surface that candidate who can take on, I predict, Hillary. Be ready for Hillary and show the nation what it's going to take to get the country on the right track. We can't afford status quo. Status quo, lately, has been lacking. We're getting screwed. Status quo's got to go.

KARLINSKY: So any interest?

PALIN: Of course.

KARLINSKY: Yeah?

PALIN: Yeah, I mean, of course, when you have a servant's heart, when you know that there is opportunity to do all you can to put yourself forward in the name of offering service, anybody would be interested.

KARLINSKY: Would you put your hat in the ring?

PALIN: It doesn't necessarily have to be me, though, but no, America is definitely ready for real change.
What to make of any of this–those smatterings of words, this scattering of 'grams? Well, for most of the "invisible primary," Palin has been irrelevant. Still popular with Republican voters, still a powerful endorser, not not discussed as a candidate. She had passed on Senate bids in 2010 and 2014, and passed on a presidential bid in 2012. Her appearance at Saturday's summit was not being viewed the way speeches by possible commander-in-chiefs were. Even Carly Fiorina, the former Hewlett-Packard CEO, had been courting media attention with hours of pre-summit interviews.
"There are some people speaking tomorrow that aren't going to be candidates," said Iowa GOP Chairman Jeff Kaufmann after a Friday night reporter meet-and-greet. "Sarah Palin isn't going to be a candidate."
That remains a safe assumption, but it's not what she told reporters when they walked up to her and flashed cameras. Palin, one of the very relatively few journalists to run for national office, knows how this stuff works.
Before it's here, it's on the Bloomberg Terminal.
LEARN MORE